Find Lakhs of Tiruchirappalli Brides & Grooms on Trichy Matrimony
Looking for a free Trichy matrimony profile? The procedure of getting married is neither easy nor uncomplicated. It actually represents a crucial turning point in everyone's life. When selecting a life partner, you cannot be reckless. So choose and register using Trichy matrimony login for suitable brides/grooms. Remember that your life partner will be there to support you through all of your highs and lows, joys and sorrows, accomplishments and failures. Trichy Matrimony is prepared to offer the world's best Tamil matrimonial services.
Read more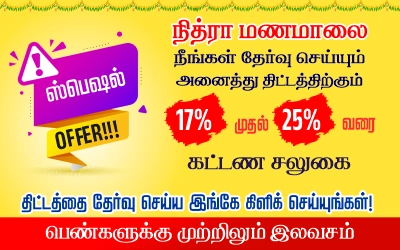 Trichy Matrimony Brides
Trichy Matrimony Grooms
Tamil Brides & Grooms in Tiruchirappalli

Trichy Matrimony will assist our Tamil community people to complete this modest task for which Tamil community people will feel proud with our great and timely customer support and assistance in making the right decision to find suitable Tamil Brides & Grooms in Tiruchirapalli Matrimony. Everyone in Tamilnadu who is deserving and eligible could get online help from Nithra Manamaalai to find a suitable Tamil Matrimony Brides / Grooms with whom he/she expects to live life-long, with full of bliss and happiness. Trichy Tamil Matrimony has been forming a long-lasting service connection in Tamilnadu through genuine, Matrimonial Service Experience, and Expertise.


Tiruchirappalli Matrimony Free search for Brides/Grooms

Trichy is famous for various temples and many businesses. Various profiles are updated in marriage matrimony in Tiruchirappalli from various castes such as sozhiya vellalar matrimony trichy, boyar matrimony trichy, reddy matrimony trichy,kallar matrimony trichy, vanniyar matrimony trichy, muthuraja matrimony trichy,etc… Those who are looking for a life companion can get into Tiruchirappalli Matrimony and can get the perfect Trichy bride/groom.


Our
Nithra Matrimony App
Nithra Matrimony is one among the best matrimonial service you could find, very simple and easiest one so far to get a better soulmate for your life, and it is user friendly and designed precisely for all the Tamil people who are searching for a partner, they can find out their ally from the matched list reliant on their bias. Use our Nithra Matrimony App to keep track of your beloved spouse hunt.