Christan Matrimony Brides & Grooms
Are you looking for the best Christian community matrimony in Tamil Nadu? Nithra Matrimony is the foremost and best Matrimonial site in Tamil Nadu. Here you can find a huge number of profiles on Christianity, according to your wish you can choose your life partner on our site. Lakhs of verified profiles under Christianity with their personal details such as their educational qualifications, native, and family background have been mentioned clearly on all the profiles in Nithra Matrimony.
How can you find your matching partner in Christian?
Christianity even has various divisions such as Roman Catholic, Latin Catholic, Born again, CSI, Goan and many more. With various divisions including Adi Dravidar, Nadar, Vanniya kula kshatriyar , Vellalar even more sub caste comes under Christianity and are also available in Nithra Matrimony.
Read more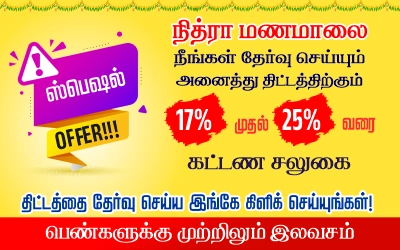 Christian Matrimony Brides
The profile you are looking for is currently unavailable.
You can register your details and we will notify you once matching profiles are accessed.

Christian Matrimony Grooms
The profile you are looking for is currently unavailable.
You can register your details and we will notify you once matching profiles are accessed.

Hindu - Caste
Muslim - Caste
Christian - Caste
By Profession
By City
By Education
By Dosham
Second Marriage By Caste
Divorcee By Caste
Divorcee By Location
Second Marriage By Location
Expected matching profiles in Christian

There are many packages to view and select the profile. One of the best plans is the premium plan with this feature, users would be able to receive contact information for appropriate attributes as well as interact with their families for future moves directly through phone calls. Users will obtain so many responses and lots of profiles if you have selected the Premium Membership.

People who are looking for the professional profile of brides/ grooms with qualified doctors, engineers, teachers, and nurses. From basic to high professional profiles are on our site. According to your preference, you can choose your partner. Make use of this wonderful opportunity provided by the Nithra Matrimony and select your dream Christian partner, even if you like to marry, and have look for the other religion or community profiles on Nithra Matrimony.


How to apply for Christian on Nithra Matrimony?

There are many successful marriages that have been conducted for Christian couples through our Nithra Matrimony. Here you can enroll your details freely without any registration. In Nithra Matrimony you can search for the best pair for your son/daughter, relatives, sisters, brothers, cousins, colleagues, and neighbors. Often some offers are also notified to you during any special occasions.

Get regular updates and notifications regarding Christian matches and profiles on Nithra Matrimony site, for more convenience, you can choose our app Nithra Manamalai ( Nithra matrimony) from the play store or even follow our pages on various social platforms Facebook, Twitter, Instagram keep follow and choose your right partner to make your life more beautiful.


Our
Nithra Matrimony App
Nithra Matrimony is one among the best matrimonial service you could find, very simple and easiest one so far to get a better soulmate for your life, and it is user friendly and designed precisely for all the Tamil people who are searching for a partner, they can find out their ally from the matched list reliant on their bias. Use our Nithra Matrimony App to keep track of your beloved spouse hunt.