Get Your Perfect Partner On Tiruppur Second Marriage Matrimony Site
Looking for the best Tiruppur second marriage matrimony? Then Nithra Matrimony is the right place for you. Got rid of your past life? Planning to remarry? If you are living in Tiruppur and seeking a bride or groom at Tiruppur, you may get lakhs of profiles on our site. Want second marriage brides in Tiruppur for your brother, cousin, son, or whoever maybe? We will help you find thousands of Tiruppur second marriage brides profiles.
Brides who are all searching for the ideal groom can also get Tiruppur second marriage grooms profiles for free. Groom alone needs to have a premium membership by activating a plan to view brides' profiles.
Read more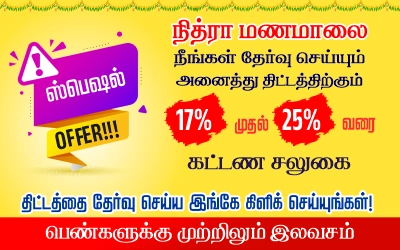 Tiruppur Second Marriage Matrimony Brides
Tiruppur Second Marriage Matrimony Grooms
Find Your Partner at Tiruppur Second Marriage Matrimony For Brides & Grooms

Tiruppur second marriage matrimony login provides brides and grooms from various professions like doctors, engineers, teachers, professors, IT employees, etc. Second marriage grooms in Tiruppur can get profiles of brides by registering their profiles at Nithra Matrimony. If someone is interested in you, our team will let know each of the sides. Further procedures can be held when there is mutual interest.


No. 1 Second Marriage Community Matrimony For Tiruppur Brides & Grooms

Second marriage community matrimony in Tiruppur is the best and most trustable matrimonial site in Tiruppur. Many people have found their partner through Nithra Matrimony and now living a wonderful life. Don't you want a good life? Then immediately register at our site for free by browsing Tiruppur second marriage matrimony free search. Throw out all your worries, and confusions away, register a profile and start your life afresh.


Our
Nithra Matrimony App
Nithra Matrimony is one among the best matrimonial service you could find, very simple and easiest one so far to get a better soulmate for your life, and it is user friendly and designed precisely for all the Tamil people who are searching for a partner, they can find out their ally from the matched list reliant on their bias. Use our Nithra Matrimony App to keep track of your beloved spouse hunt.