Most Popular Tirunelveli Second Marriage Matrimony For Brides & Grooms
Tirunelveli second marriage matrimony in Nithra Matrimony is the no.1 matrimony site in Tamil Nadu. Are you looking for second marriage grooms in Tirunelveli or brides to start your life freshly? Get register your profile with our site and get a huge number of second marriage brides in Tirunelveli and grooms' profiles.
Registration at our site is free for both the brides and grooms in Tirunelveli. After registration, our team will call you to verify your profile. If there are any queries regarding registration, you can call our customer service anytime and they will help you.
Read more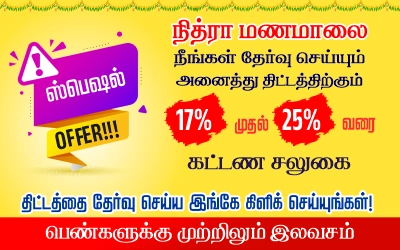 Tirunelveli Second Marriage Matrimony Brides
Tirunelveli Second Marriage Matrimony Grooms
Find Your Partner at Tirunelveli Second Marriage Community Matrimony

We also have budget-friendly plans to activate such as standard, silver, gold, diamond, and platinum for grooms. People can get various Tirunelveli second marriage grooms profiles who work in highly reputed professions like doctor, engineer, teacher, businessman, aviation, etc. Nithra Matrimony has various government jobs of Tirunelveli second marriage brides Profiles.

Our site is one of the best for Tirunelveli second marriage matrimony free search. Users can trust our site because we verified all the profiles which have been registered on our site. According to the location, profession, income, caste and so on you can search for your partner.


No. 1 Second Marriage Matrimony in Tirunelveli for Brides & Grooms

Second marriage community matrimony Tirunelveli is the most trustful and user-friendly matrimonial site. Living in abroad is everyone's dream. Is that your dream too? Then this will be great news for you! Tirunelveli second marriage matrimony login gives you thousands of NRI profiles in different nations like the UK, USA, UAE, Malaysia, Singapore, etc. Soon register your profile in Nithra Matrimony and find a partner at your favorite location.


Our
Nithra Matrimony App
Nithra Matrimony is one among the best matrimonial service you could find, very simple and easiest one so far to get a better soulmate for your life, and it is user friendly and designed precisely for all the Tamil people who are searching for a partner, they can find out their ally from the matched list reliant on their bias. Use our Nithra Matrimony App to keep track of your beloved spouse hunt.