Technician Professional Matrimony For Tamil Brides/Grooms
Technician matrimony login in Nithra Matrimony gives you a number of profiles of brides and grooms who work in this field. In this job, the majority of people have trouble finding a spouse. Have you been looking for a bride or groom as a technician but grown weary of it? Not to worry! Find your ideal spouse with the help of Nithra Matrimony. We have some exciting news to share! Both brides and grooms can register for free on Nithra Matrimony.
Read more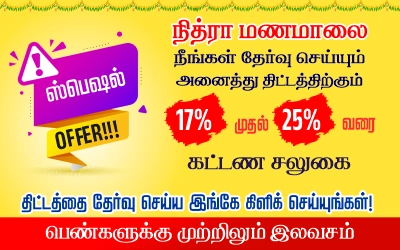 Technician Professional Matrimony Brides
Technician Professional Matrimony Grooms
Best Technician Profession Matrimonial Site

Nithra Matrimony is the best Technician matrimony Tamilnadu. Until their marriage, brides can freely view the groom's profile. However, the groom should activate some plans into action based on their wishes. We have standard, silver, gold, diamond, and platinum plans. Many people want to marry within their own caste or religion. Nithra Matrimony has profiles from Hindu, Muslim, and Christian religions, as well as 50+ castes and subcastes. You can also search based on your preferences. We have filters where you can choose your preferred location, profession, religion, caste, sub-castes, mother tongue, vegetarian or non-vegetarian, physical appearance, and complexion.


Tamil Brides/Grooms Technician Matrimony

Are you seeking the government technician's matrimonial site? Nithra Matrimony also has profiles of government Technicians. Not only government jobs, we have NRI profiles in this field too. After completing the registration process, our team will contact you to verify your profile, as each profile on Nithra Matrimony is verified. Once verified, you will be shown profiles based on your preferences. Isn't this the simplest option? Register your profile with Nithra Matrimony. We have thousands of satisfied clients who met their life partner through Nithra Matrimony. Register as soon as possible!


Our
Nithra Matrimony App
Nithra Matrimony is one among the best matrimonial service you could find, very simple and easiest one so far to get a better soulmate for your life, and it is user friendly and designed precisely for all the Tamil people who are searching for a partner, they can find out their ally from the matched list reliant on their bias. Use our Nithra Matrimony App to keep track of your beloved spouse hunt.