Software Profession Matrimony Brides/Grooms
The most popular job today is Software Profession because there are constantly more opportunities globally. Nowadays, a lot of people are searching for their life partner in the Software Profession. Begin your search right now on Software Profession matrimony. If you are looking for the best matrimony in Tamil Nadu then you have to create your profile at Nithra matrimony. They offer users only verified profiles and your information that is more secure and private. Software Profession matrimony login page offers access to a wide range of field profiles, including those for software engineer matrimony, software developer matrimony, IT profession matrimony, web developer matrimony, OS developer matrimony, database development matrimony, and many more.
Read more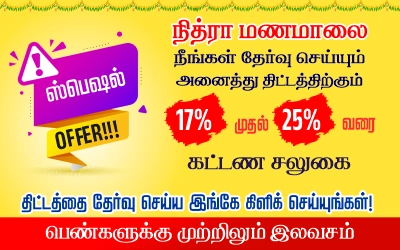 Software Profession Matrimony Brides
Software Profession Matrimony Grooms
Tamil Brides/Grooms Software Profession Matrimony

There are thousands of happy customers, and many of them have found joy and love through Nithra matrimony. All prospective brides and grooms are welcome to register for free, and brides are not required to pay a premium membership plan in order to find their future partner. It was a magnificent offer that was only made at our Nithra matrimony. Visit Nithra matrimony site today and start finding your lovable partner at Software Profession matrimony free search.


Best Software Profession Matrimonial Site

Theni Software Profession Matrimony, Dindigul Software Profession Matrimony, Kanyakumari Software Profession Matrimony, Chennai Software Profession Matrimony, Coimbatore Software Profession Matrimony, Salem Software Profession Matrimony, and more Software Profession Brides and Grooms profiles from various cities in Tamil Nadu are provided at Software Profession matrimony site. You can locate your companion at Nithra Matrimony even if you search based on the Caste and software professional grooms/brides caste no bar profiles are also provided according to your expectations. Many NRI Software Professional profiles were also given. All you have to do is create your profile today and start finding your lovable companion.


Our
Nithra Matrimony App
Nithra Matrimony is one among the best matrimonial service you could find, very simple and easiest one so far to get a better soulmate for your life, and it is user friendly and designed precisely for all the Tamil people who are searching for a partner, they can find out their ally from the matched list reliant on their bias. Use our Nithra Matrimony App to keep track of your beloved spouse hunt.