Security / Watchman Matrimony Brides/Grooms
A Security / Watchman protects a building or an area from theft, fire, vandalism, and unauthorized entry. Every Security / Watchman's job is determined by where they live and work. Each security guard is assigned a specific task. Without a Security / Watchman no organizations will not access. If you are a Security / Watchman or looking for a bride and groom in this profession, register all your details in Nithra Matrimony and create your own profile.
Read more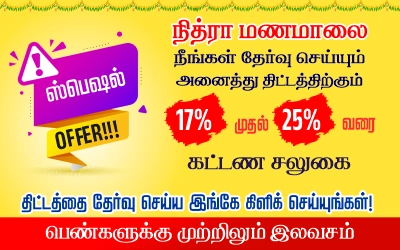 Security Watchman Matrimony Brides
The profile you are looking for is currently unavailable.
You can register your details and we will notify you once matching profiles are accessed.

Security Watchman Matrimony Grooms
Best Security / Watchman Matrimonial Site

Are you looking for a verified Security / Watchman matrimony profile? Nithra Matrimony is the best Security / Watchman matrimony in Tamil Nadu. Security / Watchman Matrimony login in Nithra Matrimony has several profiles of brides and in Security / Watchman at various places like Schools, Colleges, Institutions, Government offices, Hospitals, Textiles, Jewellery shops, Bike/car showrooms, Hospitals, Colony, Many VIP houses, etc. Good news for Security / Watchman brides and grooms, the registration in Nithra Matrimony is free.


Tamil Brides/Grooms Security / Watchman Matrimony

Thousands of brides and grooms have found their partners through Nithra Matrimony in different religions, castes, sub-castes, professions, incomes, salaries, location, Physical appearance, language, complexions, etc. We have many government jobs and NRI profiles in different countries. Every profile on our website is verified well. Then why are you waiting for? Register your profiles in Nithra Matrimony fast!!


Our
Nithra Matrimony App
Nithra Matrimony is one among the best matrimonial service you could find, very simple and easiest one so far to get a better soulmate for your life, and it is user friendly and designed precisely for all the Tamil people who are searching for a partner, they can find out their ally from the matched list reliant on their bias. Use our Nithra Matrimony App to keep track of your beloved spouse hunt.