Teacher profession Matrimony sites for Brides & Grooms
Are you looking for a teacher profession bride or groom? The best teacher profession matrimony tamilnadu is Nithra matrimony. You can find thousands of brides and groom profiles in Nithra Matrimony Nithra matrimony is one of the greatest websites for finding a life mate in this field, with more than thousands of Teacher profiles. Through this gateway, many teachers who are Hindu, Muslim, and Christians have met their soul partners. Not only in religion, but we also have various profiles of teachers in different castes like Gounder, Sozhiya Vellalar, Viswakarma, Nadar, Mudaliyar, Vanniyar, Devar, Dravidar, Devanga, Sourashtra, etc.
Read more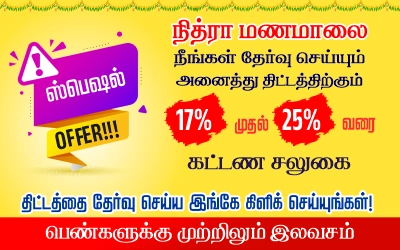 School Teacher Matrimony Brides
School Teacher Matrimony Grooms
Government Teacher Matrimony For Brides/Grooms - School Teacher

Browse teacher profession matrimony login and register on the Nithra Matrimony platform to put an end to your search for true love. On the Teacher Matrimony page of our website, you can find Teachers who speak different languages and come from different cities like Chennai, Coimbatore, etc. We have enormous profiles of brides and grooms in the teaching profession in different divisions like high school teachers, CBSE teachers, etc.


Teacher profession matrimony in Tamilnadu

If you are a government teacher and expecting your partner to be a government teacher, Nithra matrimony will help you. Nithra matrimony is the No.1 tamilnadu govt teachers matrimony. We have several government teacher matrimonial profiles with us. You can select them in your preferred location, complexion, language and family background, etc. Nithra matrimony is the best teacher profession matrimony tamil in all over Tamil Nadu. By looking through the thousands of Teacher Matrimonial profiles here, you can find your Teacher life partner. So just register your details in Nithra matrimony and find your soulmate soon.


Our
Nithra Matrimony App
Nithra Matrimony is one among the best matrimonial service you could find, very simple and easiest one so far to get a better soulmate for your life, and it is user friendly and designed precisely for all the Tamil people who are searching for a partner, they can find out their ally from the matched list reliant on their bias. Use our Nithra Matrimony App to keep track of your beloved spouse hunt.