Best Tamil Matrimony in Pudukkottai
Looking for Pudukkottai Matrimony Brides / Grooms? Then get into Nithra Matrimony and register using the Pudukkottai matrimony login to get Pudukkottai matrimony brides or grooms. We all know that Pudukkottai is famous for Many Forts. People sometimes describe it as Fort city. So often they start to search using this when they are in need of that. Likewise, these days those began to look Pudukkottai free matrimony. So here in Nithra Matrimony different profiles are updated such as Pudukkottai Nadar matrimony, Pudukkottai Kallar matrimony, Pudukkottai Mudaliyar matrimony, etc..
Read more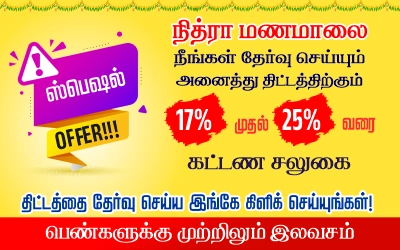 Pudukkottai Matrimony Brides
Pudukkottai Matrimony Grooms
Pudukkottai Matrimony Site to Search Profiles

Pudukkottai stands as one of the best BPO hubs. Most of the employees like to stay in their hometown with their parents. So for all those BPO hubs helps them to lead the best life. So parents or relatives who are looking for Pudukkottai matrimony profiles can use this chance to find the right soulmate for your son/daughter from marriage matrimony in Pudukkottai. Don't waste your time you can get the full Pudukkottai matrimony list with a single click and be free from your worry. Nithra Matrimony is a safe and secured site and displays your expected matrimony in Pudukkottai. To find the right companion register now at Pudukkottai Tamil Matrimony


Matrimony in Pudukkottai

Through Marriage matrimony in Pudukkottai, you can sign up freely. Pudukkottai matrimony is the best service center in Pudukkottai zone. The extraordinary faith of 50,000 households. Join now to see the various profiles and get benefits. With its numerous collection of Pudukkottai profiles, this wonderful Nithra matrimony service guarantees that you will see someone who shares your dream and passions. Keep searching,and find your spouse hunt!


Our
Nithra Matrimony App
Nithra Matrimony is one among the best matrimonial service you could find, very simple and easiest one so far to get a better soulmate for your life, and it is user friendly and designed precisely for all the Tamil people who are searching for a partner, they can find out their ally from the matched list reliant on their bias. Use our Nithra Matrimony App to keep track of your beloved spouse hunt.