Identify Your Better Half In Muslim - Syed
Are you waiting to find your better half in Muslim - Syed? You are in the right place. Nithra Matrimony assists millions of people to find their better half at the right time. More than thousands of Muslim-Syed brides and grooms have registered to find their soulmates on our site. Many satisfied customers have thanked our site for helping them select their matching partners. Register now on Nithra Matrimony if you are looking for a soulmate in Muslim - Syed.
Read more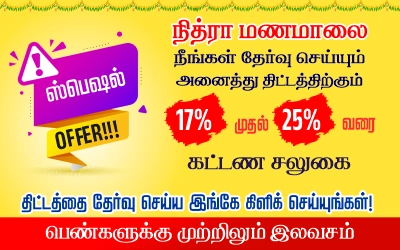 Muslim Syed Matrimony Brides
Muslim Syed Matrimony Grooms
How to apply for Nithra Matrimony

Nithra Matrimony is an easy-to-use matchmaking service. In Muslim - Syed, users can access it effortlessly and can find their soulmates without any struggle. Applicants need to enter their basic details such as name, date of birth, age, location, marital status, religion, caste, sub-caste, mother tongue, contact details, email address, occupation, height, weight, and color. You can fill in details about your horoscope such as your zodiac sign, and star. Specify your hobbies and interests. After that, we recommend some matching profiles according to your details. If you like any of the profiles, you can select them.


Meet your soulmate in Muslim - Syed

Nithra Matrimony is a highly secure and safe site. We value our customers' privacy and trust above all else. Don't worry. Our team ensures your privacy and that the profiles are authentic and thoroughly verified. Nithra Matrimony allows you to search for your soulmate in Muslim - Syed from the major cities like Coimbatore, Chennai, Salem, Tirunelveli, Tiruvallur, Madurai, Theni, Ariyalur, Erode, and many more. Select your life partner in Muslim - Syed who fits your culture and tradition.

If you have any specific expectations that you are seeking in your better half you can mention them in the interest field. Based on the information you've provided, our Nithra Matrimony team will shortlist the verified profiles in Muslim - Syed. Besides, we have included various search options like search by caste, religion, district, education, profession, and city. You have the option of requesting your favorite or most interesting profiles on Nithra Matrimony.


Find your significant other in Muslim - Syed

In Muslim - Syed, you can easily find your ideal partner. Nithra Matrimony has hundreds of Muslim - Syed profiles. Anyone can register for bride/groom. You can register for your son/daughter, friend, siblings, or relatives if you are looking for a bride/groom in Muslim - Syed. They can look at profiles on their behalf and communicate with us. By registering on the Nithra Matrimony website, you can make your life more pleasant. So stick around!

You can meet your beloved partner anywhere on the planet. Perhaps your soulmate is waiting for you on the other side of the country. Nithra Matrimony provides you with hundreds of Muslim - Syed NRI profiles from the United States, the United Kingdom, Australia, Canada, Saudi Arabia, Kuwait, Qatar, the United Arab Emirates, Singapore, Malaysia, France, and many more countries. Start search your life partner today. Register now!


Our
Nithra Matrimony App
Nithra Matrimony is one among the best matrimonial service you could find, very simple and easiest one so far to get a better soulmate for your life, and it is user friendly and designed precisely for all the Tamil people who are searching for a partner, they can find out their ally from the matched list reliant on their bias. Use our Nithra Matrimony App to keep track of your beloved spouse hunt.