Someone Is Waiting For You In Muslim – Sheikh To Bring Happiness
Nithra Matrimony is No.1 trending and most trusted matrimony site for Muslim - Sheikh in Tamil Nadu. Lakhs of profiles have been updated already and thousands of profiles have found their life partner through our site. Hundreds of profiles are registered every day. Our motto is to assist every Muslim - Sheikh single bride and groom to find their soulmate. Not only finding the perfect life partner but also the perfect family for them. Register immediately on the Nithra Matrimony site!
Read more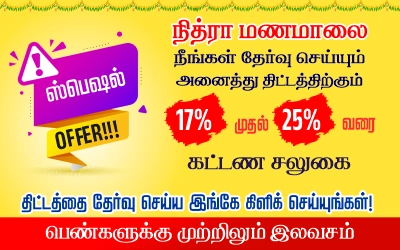 Muslim Sheikh Matrimony Brides
| | | |
| --- | --- | --- |
| Name | : | Fathima Ahmed |
| Age | : | 25yrs |
| Caste | : | Muslim - Sheikh |
| Marital Status | : | Never Married |
| Qualification | : | B.Com. Corporate Secretaryship |
| Work | : | HR |
| City | : | Tiruvallur |
To View Full Profile & Contact
Muslim Sheikh Matrimony Grooms
Find your special one in Muslim - Sheikh

Marriage is the most important stage in life for everyone. We have to choose our better half cautiously. Because it connects two hearts and embodies the happiness of both families. Finding the best life partner can be a difficult task, and many are left wondering where and how to begin the search. Don't worry! Nithra Matrimony is here to ease your difficulties. Take a step ahead to find your special one in Muslim - Sheikh and follow the simple steps to register on the Nithra Matrimony site.

Go to our site click free to register, enter your mobile number and receive OTP. On the next page enter the fundamental details such as name, date of birth, age, caste, religion, education, occupation, mother tongue, location, marital status, salary details, and workplace details. In the next part, you need to give physical appearance details like height, weight, color, and your horoscope details. In the next part, you need to give your family details such as your father's name, mother's name, siblings, and so on. You can also register through our Nithra Matrimony app. Download from the Google Play Store, sign up now, and follow the same procedure to locate your life partner in Muslim - Sheikh.


Expected matching profiles in Muslim - Sheikh

Nithra Matrimony has become a popular matrimonial site in Tamil Nadu. We have clear information about the registered profiles. Every profile that has been submitted will be properly reviewed by our dedicated team. Upload your photo with information. After the verification, you can see the profiles in Muslim - Sheikh that matches your criteria. If you are interested in meeting any of the profiles that share your interests, let us know. We will make further arrangements on your behalf.

We have various membership plans such as standard, silver, gold, diamond, and platinum. You can pick from those plans. You can access Muslim - Sheikh profiles and explore advanced settings based on the plans you select. Nithra Matrimony understands customers' feelings very well. You do not have to spend a lot of money to see the profiles. Both men and women can take advantage of our unique offerings. As for women, can view profiles for free until they get married.


Best Overseas profiles in Muslim - Sheikh

Looking for an overseas bride or groom in Muslim - Sheikh? Nithra matrimony includes hundreds of Muslim - Sheikh NRI profiles from nations all over the world including the United States, the United Kingdom, Singapore, Malaysia, Canada, the United Arab Emirates, Saudi Arabia, Qatar, Oman, Kuwait, Australia, France, Indonesia, and many others. We will notify the family if any of the profiles match so you will be able to contact them via Whatsapp, Facebook, or any other social networking platform. Don't be late to find your beloved partner who is waiting for your arrival.


Our
Nithra Matrimony App
Nithra Matrimony is one among the best matrimonial service you could find, very simple and easiest one so far to get a better soulmate for your life, and it is user friendly and designed precisely for all the Tamil people who are searching for a partner, they can find out their ally from the matched list reliant on their bias. Use our Nithra Matrimony App to keep track of your beloved spouse hunt.