Your Soulmate Is Here In Muslim - Ansari
Nithra Matrimony is one of the top trending matrimonial sites in Tamil Nadu. If you are looking for a bride/groom in Muslim - Ansari, we have thousands of verified profiles in the Muslim - Ansari community. Nithra Matrimony is also known as culture friendly site where you can find all the profiles from various castes, subcastes, and religions in one place. So it is easy for users to register and find their partner in Muslim - Ansari.
Read more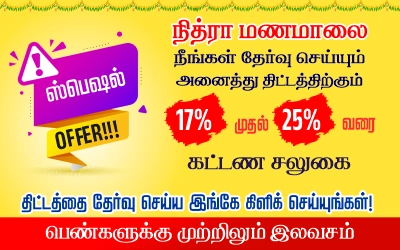 Muslim Ansari Matrimony Brides
The profile you are looking for is currently unavailable.
You can register your details and we will notify you once matching profiles are accessed.

Muslim Ansari Matrimony Grooms
Expected Life Partner in Muslim - Ansari

On Nithra Matrimony site, you can find matching for Muslim - Ansari profiles based on the desired profile of the bride and groom. After registration, our team will carefully check every detail. They make a list of matching profiles and suggest you view those profiles. If you are interested in any of those profiles, we will arrange to contact them further.

We have special features like anyone can register for bride/groom. If you are looking for a bride/groom for your son/daughter or your friend you can contact on behalf of the bride/groom. Partner searching is trouble-free on our site. As we have separated into groups such as caste-wise, religion-based, education-based, and profession-based. If you are searching in the Muslim - Ansari community then click the page and search. Isn't it an effective way to find your soulmate?


Find Your Special One in Muslim - Ansari

Nithra Matrimony allows you to find your special one in Muslim - Ansari in Tamil Nadu and across the globe. If you are searching in and around Tamil Nadu you can find matching profiles in your preferred cities like Chennai, Tiruppur, Coimbatore, Madurai, Virudhunagar, and many more. Start your search by registering on our site and exploring the journey to find your soulmate.

Are you searching for Muslim - Ansari NRI profiles across the globe? Don't worry we have many verified profiles around many countries like the United States, the United Kingdom, Canada, Saudi Arabia, Qatar, Oman, Australia, and so on. Our team will guide you to find your perfect life partner as your preferences.


Best Matching Profiles in Muslim - Ansari

In the Muslim - Ansari community, many people have found their life companions and got married successfully. On Nithra Matrimony registration is entirely free for both bride and groom. Spare a minute to register on our site and look for your beloved partner to spend the rest of your life with your soulmate. If any of the profiles match with your profile, you will receive a notification with complete details. You can contact the matched profile directly or chat with him/her on social media sites as per their choice. Sign up now!


Our
Nithra Matrimony App
Nithra Matrimony is one among the best matrimonial service you could find, very simple and easiest one so far to get a better soulmate for your life, and it is user friendly and designed precisely for all the Tamil people who are searching for a partner, they can find out their ally from the matched list reliant on their bias. Use our Nithra Matrimony App to keep track of your beloved spouse hunt.