The best Matrimony in Kerala with free registration!
Hello Malayalis!! Here is the greatest news for you! Nithra Matrimony has profiles of Malayali grooms and brides. Marriage is the biggest dream of people and everyone has many expectations for their life partner. We help you find the right one as per your expectations. Looking for Groom/Bride in Kerala? By registering a profile for you on our site, you may find thousands of profiles. We have budget-friendly packages compared to others.

Read more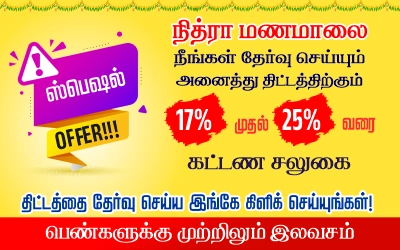 Kerala Matrimony Brides
| | | |
| --- | --- | --- |
| Name | : | திவ்யா தர்ஷ்னி |
| Age | : | 19yrs |
| Caste | : | Vishwakarma |
| Marital Status | : | Never Married |
| Qualification | : | 12th / H.S.S. |
| Work | : | Garments / Textile Employee |
| City | : | Palakkad |
To View Full Profile & Contact
| | | |
| --- | --- | --- |
| Name | : | Mithra |
| Age | : | 23yrs |
| Caste | : | Pallan / Devandra Kula Vellalan |
| Marital Status | : | Never Married |
| Qualification | : | B.Sc. Nursing |
| Work | : | Nurse |
| City | : | Idukki |
To View Full Profile & Contact
| | | |
| --- | --- | --- |
| Name | : | Mahalaskmi.M |
| Age | : | 23yrs |
| Caste | : | Nair |
| Marital Status | : | Never Married |
| Qualification | : | B.Sc. Mathematics |
| Work | : | Others |
| City | : | Palakkad |
To View Full Profile & Contact
| | | |
| --- | --- | --- |
| Name | : | Nivedha |
| Age | : | 24yrs |
| Caste | : | Gounder - Kongu Vellala Gounder |
| Marital Status | : | Never Married |
| Qualification | : | B.E. Agricultural and Irrigation Engineering (SS) |
| City | : | Palakkad |
To View Full Profile & Contact
| | | |
| --- | --- | --- |
| Name | : | Swetha |
| Age | : | 24yrs |
| Caste | : | Illaththu Pillai |
| Marital Status | : | Never Married |
| Qualification | : | B.D.S. Bachelor of Dental Surgery |
| City | : | Pathanamthitta |
To View Full Profile & Contact
Kerala Matrimony Grooms
| | | |
| --- | --- | --- |
| Name | : | கார்த்திக் |
| Age | : | 22yrs |
| Caste | : | Arunthathiyar |
| Marital Status | : | Never Married |
| Qualification | : | I.T.I. Fitter |
| Work | : | Fitter |
| City | : | Alappuzha |
To View Full Profile & Contact
| | | |
| --- | --- | --- |
| Name | : | Appu mohan |
| Age | : | 23yrs |
| Caste | : | Naicker |
| Marital Status | : | Never Married |
| Qualification | : | B.A. Economics |
| Work | : | Company Employee |
| City | : | Kottayam |
To View Full Profile & Contact
| | | |
| --- | --- | --- |
| Name | : | Azhar Akbar |
| Age | : | 23yrs |
| Caste | : | Muslim - Rowther |
| Marital Status | : | Never Married |
| Qualification | : | B.B.A. Bachelor of Business Administration |
| Work | : | Event Management Profession |
| City | : | Kottayam |
To View Full Profile & Contact
| | | |
| --- | --- | --- |
| Name | : | Kannan |
| Age | : | 23yrs |
| Caste | : | Naicker |
| Marital Status | : | Never Married |
| Qualification | : | 12th / H.S.S. |
| Work | : | Mason |
| City | : | Palakkad |
To View Full Profile & Contact
| | | |
| --- | --- | --- |
| Name | : | Aravinth |
| Age | : | 24yrs |
| Caste | : | Devar/Thevar/Mukkulathor |
| Marital Status | : | Never Married |
| Qualification | : | I.T.I. Mechanic (Motor Vehicle) |
| Work | : | Carpenter |
| City | : | Kannur |
To View Full Profile & Contact
Get Thousands of Malayali Brides and Grooms profiles

We have many verified profiles of Malayali brides and grooms. Both men and women can register their profiles on our site for free. Malayali brides can check their profile for free till their marriage. Grooms have to pay to get the bride's profiles. Kerala is famous for its ecotourism spots, cultures, and traditions. As well as Nithra Matrimony is famous for being the best Malayali matrimony site. Thousands of Malayalis have found their partners on this highly trusted matrimony site.


Find Your Perfect Match for Bride or Groom in Kerala

Several brides and grooms looking for their match must be in the same profession. On our site, you can find countless professions like software engineers, doctors, businessmen/women, lawyers, nurses, software, teachers, civil servants, etc. There are a lot of profiles with salary more than 50000. We have brides and grooms from different religions and castes. There are also people who speak languages like Malayalam, Tamil, Hindi, Telugu, and Kannada who also registered their profiles with us. We have many success stories and it's time to make yours with Nithra Matrimony!


Our
Nithra Matrimony App
Nithra Matrimony is one among the best matrimonial service you could find, very simple and easiest one so far to get a better soulmate for your life, and it is user friendly and designed precisely for all the Tamil people who are searching for a partner, they can find out their ally from the matched list reliant on their bias. Use our Nithra Matrimony App to keep track of your beloved spouse hunt.