Brides/ Grooms in Kanchipuram
As Kanchipuram is famous for silk sarees and industries, most people willing to choose Kanchipuram as their native. They can find their Bride/groom profile in marriage matrimony in Kanchipuram. Use Kanchipuram Matrimony login and register today to find a perfect life partner from thousands of profiles. You can look for different profession of Kanchipuram matrimony profiles like Business Owner / Entrepreneur, Engineer, Software profession, Officer, Executive, Supervisor, Driver, Electrician. Technician, Accountant, School Teacher, Banking Profession, Government Job Profession, etc..
Read more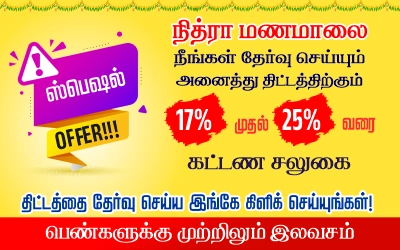 Kancheepuram Matrimony Brides
Kancheepuram Matrimony Grooms
Find Your Perfect Match on Kanchipuram Matrimony

Who knows? Your Soulmate may be waiting for you on this Kanchipuram Matrimony. Brides can look at the groom's profiles on Kanchipuram matrimony at free of cost. On comparing to other sites, Tamil matrimony offers inexpensive packages. You may soon select a profile by sorting the ones in Nithra Matrimony based on your expectations. Your whole needs will be displayed to you within a single click. So, don't worry about it. These free matrimony sites in Kanchipuram show you numerous profiles for all communities.


Tamil Matrimony in Kanchipuram

As Kanchipuram is famous for many aspects, you can find a large number of Tamil brides/grooms profiles in Kanchipuram matrimony. You can make favorite options to your wished profiles and can send interest to those profiles. These are some of the additional specialties in Tamil Matrimony on comparing to other sites. Inspite of wasting your money through brokerages move into our trusted Kanchipuram matrimonial sites and get numerous inputs at fingertip. Simply register your details now and you can get notified if your expected profiles are matched with your horoscope.


Our
Nithra Matrimony App
Nithra Matrimony is one among the best matrimonial service you could find, very simple and easiest one so far to get a better soulmate for your life, and it is user friendly and designed precisely for all the Tamil people who are searching for a partner, they can find out their ally from the matched list reliant on their bias. Use our Nithra Matrimony App to keep track of your beloved spouse hunt.