Best Matrimony Portal for Kala Sarpa Dosam Matrimony for Tamil Brides & Grooms
In astrology, the term Kala Sarpa Dosha or Sarpa Dosha is frequently used. A snake that has been slain by one or more people glances at its killer as it reanimates. If Kala Sarpa Dosha is present, marriage will take longer and the people should marry their partner who is having the same sarpa dosam. Kala Sarpa Matrimony offers you lakhs of brides with this dosha. Kala sarpa dosham grooms, you have struggled a lot to get married, now avoid such feelings, Nithra matrimony is here to help you, we listed the number of Tamil kala sarpa brides. You can find love in your native or at various districts. Kala sarpa dosham brides can find their groom based on their profession like the manager, driver, supervisor, engineer, teacher, carpenter, and so on.
Read more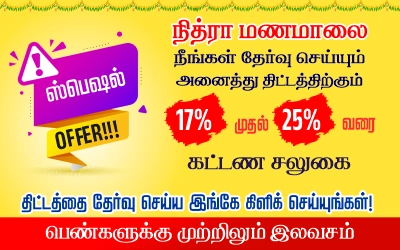 Kala Sarpa Dosham Matrimony Brides
Kala Sarpa Dosham Matrimony Grooms
How to Apply for Kala Sarpa Dosam Matrimony on Nithra Matrimony

Opening a profile on Nithra Matrimony is a very simple process, just provide all the basic details like your name, contact details, horoscope, hometown, salary, profession, and your expectations for the profile you are looking for. Our matrimony is very safe, don't waste your time and start choosing a partner who matches all your preferences.


Find Your Perfect Match on Kala Sarpa Dhosa Matrimony

Tamil Kala sarpa dosham matrimony also provides language-based profiles some castes and people in Tamil Nadu also prefer the pair from their language. For those, it was the best marriage consulting platform to get verified profiles. All Tamil brides and grooms can register profiles for free in Nithra matrimony where plans are very affordable for every people.


Our
Nithra Matrimony App
Nithra Matrimony is one among the best matrimonial service you could find, very simple and easiest one so far to get a better soulmate for your life, and it is user friendly and designed precisely for all the Tamil people who are searching for a partner, they can find out their ally from the matched list reliant on their bias. Use our Nithra Matrimony App to keep track of your beloved spouse hunt.