The Best Matrimony Portal For I.T.I. Mechanic (Motor Vehicle) Tamil Bride And Groom
I.T.I Mechanic matrimony site in Tamil Nadu will provide tremendous profiles based on caste, religion, location, and profession. It was the most trusted matrimony with 100% verified profiles. Start your search through your horoscope, job, salary, and other expectations as your wish at I.T.I Mechanic graduates matrimony. NRI profiles and high-salary graduates are also available on Nithra Matrimony. City-based grooms and brides in Tamil Nadu like Chennai, Salem, Coimbatore, Karur, Madurai, and so many district profiles are also at Nithra Matrimony.
Read more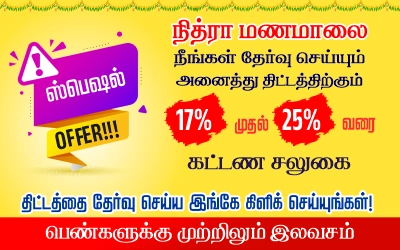 Iti Mechanic Motorvehicle Brides
Iti Mechanic Motorvehicle Grooms
Hindu - Caste
Muslim - Caste
Christian - Caste
By Profession
By City
By Education
By Dosham
Second Marriage By Caste
Divorcee By Caste
Divorcee By Location
Second Marriage By Location
Find Your Life Companion I.T.I. Mechanic (Motor Vehicle) On Nithra Matrimony

I.T.I Mechanic matrimony has countless grooms and brides from various religions like Hindu, Muslim, and Christian matrimony also accessible at Nithra matrimony. In Tamil I.T.I Mechanic graduates grooms & brides who are waiting for a partner in this profession now use the golden opportunities and meet their lovable partner today! Expected matches from your desired location are also available for the I.T.I Mechanic grooms.


How To Search For I.T.I. Mechanic (Motor Vehicle) Profiles On Nithra Matrimony

I.T.I Mechanic brides and grooms who are working in the central government and state government job holder profiles are listed at our matrimony. Free registration for the brides and grooms. Premium plans are provided at affordable prices when compared to other Tamil matrimony sites. I.T.I Mechanical engineer and Electrical engineer graduate profiles are available at Nithra matrimony. Start your journey today and celebrate your beautiful journey through Nithra matrimony.


Our
Nithra Matrimony App
Nithra Matrimony is one among the best matrimonial service you could find, very simple and easiest one so far to get a better soulmate for your life, and it is user friendly and designed precisely for all the Tamil people who are searching for a partner, they can find out their ally from the matched list reliant on their bias. Use our Nithra Matrimony App to keep track of your beloved spouse hunt.