The Best Matrimony Portal For B.E. Information Technology Tamil Bride And Groom!
Are you looking for reputed B.E. Information Technology Matrimony sites? If so visit our Nithra Matrimony. The "Digital India" initiative has significantly raised the demand for information technology. Information Technology has played a significant part in meeting the expanding demands of societal needs and has maintained its dominance in the sector. Numerous elements of business, social contact, healthcare, education, and many more have been altered by IT. This results in, the majority of brides and grooms expecting their partner to be in this field and looking for the best B.E. Information Technology community Matrimony.
Read more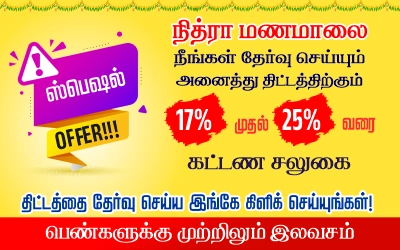 Information Technology Brides
Information Technology Grooms
Hindu - Caste
Muslim - Caste
Christian - Caste
By Profession
By City
By Education
By Dosham
Second Marriage By Caste
Divorcee By Caste
Divorcee By Location
Second Marriage By Location
Find Your Perfect Match On B.E. Information Technology Matrimony

Register your profile in Tamil B.E. Information Technology Matrimony for free and get lakhs of B.E. Information Technology Grooms and brides profiles who are working in the top leading IT companies from big cities. Are you are looking for an NRI profile? Then this will be great news for you. We also have NRI B.E. Information Technology Brides and Groom profiles in various countries such as the USA, UK, UAE, Singapore, Malaysia, and Australia.


How To Search For B.E. Information Technology On Nithra Matrimony

B.E. IT Matrimonial site has more than 50 castes and its subcastes from Hindu, Muslim, and Christians. Users can also search by age, dob, marital status, location, language, income, profession, education, physical appearance, color etc. 10000+ B.E. IT graduate Brides & Grooms have happily found and married a person as they expected through Nithra Matrimony. You too can find your soulmate here. Just register your profile very soon!!


Our
Nithra Matrimony App
Nithra Matrimony is one among the best matrimonial service you could find, very simple and easiest one so far to get a better soulmate for your life, and it is user friendly and designed precisely for all the Tamil people who are searching for a partner, they can find out their ally from the matched list reliant on their bias. Use our Nithra Matrimony App to keep track of your beloved spouse hunt.