Hotel Matrimony Brides/Grooms
A hotel is the only place that every human visits often in their lifetime. Nowadays the count of the hotel is multiplying twice and triple. And the customers are never tired of visiting and eating in hotels. Hotel earns more profits than their investment. So maximum level of brides and grooms are willing to marry hotel owners and workers. If you are willing to marry a bride or groom in the Hotel profession, just register your profile in Nithra Matrimony.
Read more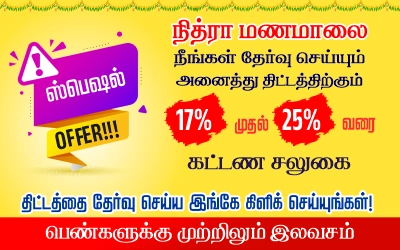 Hotel Owner Professional Matrimony Brides
Hotel Owner Professional Matrimony Grooms
Best Hotel Matrimonial Site

Are you looking for the best Hotel Matrimony in Tamil Nadu? Hotel Matrimony login in Nithra Matrimony provides you with plenty of bride's and groom's profiles. Nithra Matrimony is the most trusted site in Matrimony. We have many profiles of brides and grooms in different hotel fields like Motels, Restaurants, Dhabbas, Punjabi hotels, South Indian Traditional Hotel, North Indian hotels, Hotels with cafes, Resorts, etc. You can select your preferred field and search for your partner.


Tamil Brides/Grooms Hotel Matrimony

We also have NRI profiles, brides/grooms having or working in restaurants in many countries like the USA, UK, UAE, Singapore, Malaysia, etc. You also search according to your preference in religion, caste, sub-caste, salary, location, appearance, complexions, etc. Many of the Hotel's professional brides and grooms have registered in Nithra Matrimony. Hundreds of brides and grooms have successfully married and lived a happy life. Isn't this beautiful to hear? Register your profile in Nithra Matrimony and you too find your ideal mates.


Our
Nithra Matrimony App
Nithra Matrimony is one among the best matrimonial service you could find, very simple and easiest one so far to get a better soulmate for your life, and it is user friendly and designed precisely for all the Tamil people who are searching for a partner, they can find out their ally from the matched list reliant on their bias. Use our Nithra Matrimony App to keep track of your beloved spouse hunt.