Goldsmiths Matrimonial Community Matrimony Grooms
Goldsmiths matrimony free search yields a large number of Goldsmiths brides and grooms profiles. Goldsmiths will be more responsible and determined to achieve their objectives. Many people's dream is to find a partner who is responsible and determined. Why would you miss people who are built with these characteristics in the Goldsmiths profession? Nithra Matrimony can help you find Goldsmiths partners and make your dream a reality.
Read more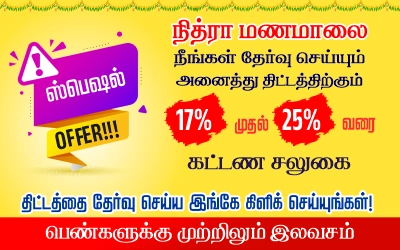 Goldsmiths Professional Matrimony Brides
The profile you are looking for is currently unavailable.
You can register your details and we will notify you once matching profiles are accessed.

Goldsmiths Professional Matrimony Grooms
Goldsmiths Matrimonial Site

If you are looking for the top 1 Goldsmiths matrimony in Tamilnadu, you have come to the right place. Then create a profile on Nithra Matrimony and look for a partner in the same field. Having a partner from the same profession is fortunate. You can live your life free of problems and misunderstandings. Nithra Matrimony is Tamil Nadu's most trusted matrimonial website. You can look for it in the Hindu, Muslim, and Christian religions. We also have Gounder, Sozhiya Vellalar, Vishwakarma, Devar, Mudaliyar, Vanniyar, Dravidar, and other castes.


Tamil Brides/Grooms Goldsmiths Matrimony

Not only there are religions and Nithra Matrimony also caste divisions profiles. This may help you find your partner regardless of religion, caste, or division. Nithra Matrimony is also known for a Goldsmiths matrimonial site. In this profession, we also have NRI profiles. Thousands of our clients have happily married after meeting their partners in this field. Soon, create a profile on Nithra Matrimony and start looking for your soulmate.


Our
Nithra Matrimony App
Nithra Matrimony is one among the best matrimonial service you could find, very simple and easiest one so far to get a better soulmate for your life, and it is user friendly and designed precisely for all the Tamil people who are searching for a partner, they can find out their ally from the matched list reliant on their bias. Use our Nithra Matrimony App to keep track of your beloved spouse hunt.