Finance Professional Matrimony Community Brides / Grooms
If you are looking for the best Finance profession matrimony Tamilnadu? Nithra matrimony is one of the greatest platforms for finding a groom or bride in the finance profession, with more than a lakh profiles of Finance Professionals. Many brides and grooms have found their Finance Professional soul partners through Nithra matrimony. By looking through the profiles of the Finance Professional Brides and Grooms registered on this platform, you will definitely find your partners. Nithra matrimony has different religious profiles (Hindu, Muslim, and Christian) of brides and grooms in the finance profession.
Read more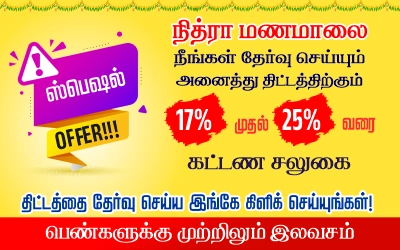 Finance Matrimony Brides
Finance Matrimony Grooms
Best Finance Professional Matrimonial Site

Finance profession free search gives you several profiles of grooms and brides in this field. Brides and grooms can find finance profession partners in their castes too. In Nithra matrimony we have various castes like Gounder, Sozhiya Vellalar, Viswakarma, Nadar, Mudaliyar, Vanniyar, Devar, Dravidar, Devanga, Sourashtra, etc. For both brides and grooms, the registration is completely free. Not only castes we have many subcastes too. The brides and groom can filter their expectations in location, language, income, complexions, etc.


Tamil Brides/Grooms Finance Professional Matrimony

Finance profession matrimony login provides you with enormous profiles. Just register your profile in Nithra matrimony and start the process to find your life partner. Nowadays, the finance profession has good scope than other professions. So most brides are expecting their partner in this field. Nithra matrimony helps you to find your partner as soon as possible. Many brides and grooms have found their partner in this profession and are happily married. You too just register your profile and get married to the one you expected.


Our
Nithra Matrimony App
Nithra Matrimony is one among the best matrimonial service you could find, very simple and easiest one so far to get a better soulmate for your life, and it is user friendly and designed precisely for all the Tamil people who are searching for a partner, they can find out their ally from the matched list reliant on their bias. Use our Nithra Matrimony App to keep track of your beloved spouse hunt.