Entrepreneur Matrimony in Tamil Nadu
Are you looking for a Business Owner Entrepreneur bride and groom? Find Your Perfect Match On Business Owner Matrimony through our Nithra matrimony is the right choice for you where you can find lakhs of Business owner/ Entrepreneur profiles. Nowadays, young people are expecting their life partner to understand their profession and be a supportive person in both career and life. As Nithra matrimony offers thousands of profession-based profiles to make it easier to find your partner. Nithra matrimony guarantees your safety as customers' privacy is our topmost priority which gives secured matchmaking service with complete privacy. We will not share your details until confirmation is received from the customer.
Read more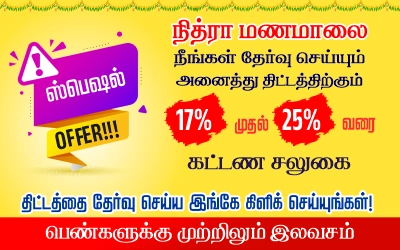 Entrepreneur Matrimony Brides
The profile you are looking for is currently unavailable.
You can register your details and we will notify you once matching profiles are accessed.

Entrepreneur Matrimony Grooms
The profile you are looking for is currently unavailable.
You can register your details and we will notify you once matching profiles are accessed.

Hindu - Caste
Muslim - Caste
Christian - Caste
By Profession
By City
By Education
By Dosham
Second Marriage By Caste
Divorcee By Caste
Divorcee By Location
Second Marriage By Location
Business Owner Entrepreneur Matrimony

Find suitable Business Owner Entrepreneur brides & grooms matches by Location, Education, Occupation, etc. The largest and most exclusive matrimonial service for Business Owner/Entrepreneur Professionals matrimony. Nithra Manamaalai is the best matrimonial site in Tamil Nadu. Registration is free for all clients. You can select the profession you are looking for. If you are searching for your soulmate as a Business Owner/Entrepreneur then choose that profession. You will get a list of brides and grooms profiles in this field across Tamil Nadu. Select any of those profiles that match your interests. Our matrimony site provides you with affordable plans to access more services.


Business Owner Entrepreneur grooms

You can contact them via Whatsapp, Facebook, or Phone using your membership card. Want to get your life partner across the country? Nithra Matrimony site assists with the compiled and verified list of hundreds of Business owner/ Entrepreneur NRI brides & groom's profiles. Countries from the United States of America, United Kingdom, Germany, Saudi Arabia, France, Malaysia, Singapore, and many more. Register now to find your better half who is waiting for you at the other end. Push the notification to get the daily updated alerts about who has viewed or requested your profile. Don't be late for finding your life partner.


Our
Nithra Matrimony App
Nithra Matrimony is one among the best matrimonial service you could find, very simple and easiest one so far to get a better soulmate for your life, and it is user friendly and designed precisely for all the Tamil people who are searching for a partner, they can find out their ally from the matched list reliant on their bias. Use our Nithra Matrimony App to keep track of your beloved spouse hunt.