Best Matrimonial Sites for Engineers
Searching for Engineer Brides/grooms. Enter now into Nithra Matrimony, it is a leading Engineer Matrimonial service and Verified Engineer Matrimonial Site for engineers Exclusively for Tamil Engineer Matrimony Brides & Grooms with thousands of Genuine & Authentic Profiles, Search Your Life Partner Now! Register Free! In recent days, everyone is looking for a loved one with a good profession. Most of the parents or alliance searching people decided to search for Engineer Matrimony grooms in IT or other engineering sectors as this field has much scope at any time and well paid every year. Brides / Grooms who have completed engineering and working in the IT profession are looking for Engineers as their Life partners who can get into Nithra Matrimony. And few have the interest to settle in city side like Chennai, Bangalore, Coimbatore are also expecting engineer profile for marriage. Engineer field has various career options such as working in cities, and moving towards onsite through organizations for different countries.
Read more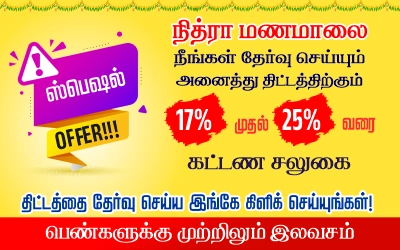 Engineer Matrimony Brides
The profile you are looking for is currently unavailable.
You can register your details and we will notify you once matching profiles are accessed.

Engineer Matrimony Grooms
The profile you are looking for is currently unavailable.
You can register your details and we will notify you once matching profiles are accessed.

Hindu - Caste
Muslim - Caste
Christian - Caste
By Profession
By City
By Education
By Dosham
Second Marriage By Caste
Divorcee By Caste
Divorcee By Location
Second Marriage By Location
Tamil Engineer Community Matrimony

Engineer is the best occupation to work at any time according to their convenience with a high pay scale. They can choose shifts such as morning, evening, or nighttime shifts and can schedule their events as per that. Nowadays groom also prefers Engineer matrimony brides. Those who are tired of searching for your companion can search through Nithra manamaalai site. Work from home job is available only in the IT sector. Compared with other professions this one is an enjoyable profession as they get every weekend holidays. In Nithra Matrimony Hindu, Christian, and Muslim religion engineer profiles are updated. You can get various caste engineer profiles for Bride/Groom. It was the 100% Verified Engineer Matrimonial Site For Tamil Brides & Grooms.


Engineer Matrimony for Brides & Grooms

Vannia Kula Kshatriyar, Adi Dravidar / Paraiyar, Yadav, Gounder - Kongu Vellala Gounder, Nadar, Vishwakarma, Agamudayar / Arcot / Thuluva Vellala, Yadav, Devar/Thevar/Mukkulathor,24 Manai Telugu Chettiar, Naidu, Mudaliyar, Muthuraja, Senguntha Mudaliyar, Arunthathiyar, Sozhiya Vellalar, Devandra Kula Vellalar, Pillai, Lebbai, Rowther, Ansari, Sheikh, Arain, Dekkani, Awan, Pathan, Roman Catholic, Pentecost, Evangelist, Knanaya and many more profiles are posted in marriage site for engineers. So select the right profile by registering through tamil engineer matrimony login and end with a happy wedding!


Our
Nithra Matrimony App
Nithra Matrimony is one among the best matrimonial service you could find, very simple and easiest one so far to get a better soulmate for your life, and it is user friendly and designed precisely for all the Tamil people who are searching for a partner, they can find out their ally from the matched list reliant on their bias. Use our Nithra Matrimony App to keep track of your beloved spouse hunt.