Tamil Devanga Chettiar Matrimony for Brides & Grooms
Nithra matrimony is one of the trending and the trusted matrimonial site for Devanga Chettiar in Tamil Nadu. Lakhs of people have registered and thousands of people have already found their life partner through our matrimony site. More than 5000+ Devanga Chettiar brides/grooms have enrolled to find their significant other. Maybe the person you are longing for is here! We are always with you to help you, in find your perfect partner with a lovable family. Marriage is not just finding a spouse but also finding and creating a new family. We Nithra Matrimony will guide and help you like a family member!
Read more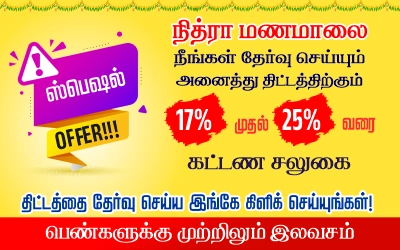 Devanga Chettiar Matrimony Brides
The profile you are looking for is currently unavailable.
You can register your details and we will notify you once matching profiles are accessed.

Devanga Chettiar Matrimony Grooms
The profile you are looking for is currently unavailable.
You can register your details and we will notify you once matching profiles are accessed.

Hindu - Caste
Muslim - Caste
Christian - Caste
By Profession
By City
By Education
By Dosham
Second Marriage By Caste
Divorcee By Caste
Divorcee By Location
Second Marriage By Location
Devanga Chettiar brides and grooms! Apply now!

Apply on the Nithra Matrimony site to find your soulmate in Devanga Chettiar community. Nithra Matrimony is easily accessible site for people who are looking to find their domestic partner. Registration is completely free on our site. Enter your mobile number and you will receive an OTP, then fill in the required information, such as name, date of birth, caste, education, mother tongue, age, location, religion, marital status, occupation, salary details, workplace details, height, weight, and colour. You must also provide horoscope information, such as zodiac sign, star, kothiram, and so on. After completing this you can start search your bride/groom. Nithra Matrimony site is more useful for both the city and village side people who are in search of their future partner.


Find your matching profile in Devanga Chettiar

Nithra Matrimony has grown in popularity among others. We have well-verified profiles and crystal clear about the information. Our devoted team will thoroughly check each and every profile that has been submitted. Simply enter your information and upload your photo. Following the verification, we can view the profiles that match your criteria. If you are interested in meeting with any of those profiles who shares your interests, please let us know. We will make further arrangements on behalf of you.

Nithra matrimony site gives a special feature such as whoever from their family circumstances or friends can register for bride/groom. They can look through profiles and get in touch. You can view other caste bride and groom profiles if you are interested to find your soulmate in another caste. Here we got a surprising offer that you have never ever heard before! For brides, who are looking for their groom can view groom profiles for free until they get married. For grooms, they can look at up to five bride profiles for free. Never miss out on this great opportunity!


NRI profiles for Devanga Chettiar

Are you searching for NRI bride/groom in Devanga Chettiar? Nithra matrimony has hundreds of NRI profiles from all over countries such as the United States, the United Kingdom, Singapore, Malaysia, Canada, the United Arab Emirates, Australia, and many more. If any of the profiles matched or appealed to you, we will notify the family and you will be able to contact them through Whatsapp, Facebook, or any other social media platform. We've made it simple to find your match, so be the first to do so. Marriage comes once in a lifetime make it as you desired to be. Don't waste your valuable time and money with the intermediates and brokers. In Nithra Matrimony you can view thousands of profiles. Nithra matrimony will make your wishes with trust!


Our
Nithra Matrimony App
Nithra Matrimony is one among the best matrimonial service you could find, very simple and easiest one so far to get a better soulmate for your life, and it is user friendly and designed precisely for all the Tamil people who are searching for a partner, they can find out their ally from the matched list reliant on their bias. Use our Nithra Matrimony App to keep track of your beloved spouse hunt.