Computer system work Matrimony Brides/Grooms
The computer system is the most essential tool nowadays. Computer systems are widely used in many workplaces. Some businesses may find it difficult to function without them. Computers can even influence where employees work, as they can frequently work many miles away from their official place of business. As the result, nowadays 70% of work is Computer system works. So many of the brides and grooms are seeking their partner to be in Computer system work.
Read more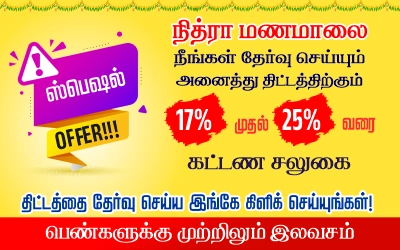 Computer It Matrimony Brides
Computer It Matrimony Grooms
Best Computer system work Matrimonial Site

Are you searching for computer system work matrimony tamil nadu? Then Nithra Matrimony is the best computer system work matrimony site in Tamil Nadu. Computer system work matrimony login in Nithra Matrimony leads you lakhs of profiles in this field. Registration in Nithra Matrimony is free for both brides and grooms. Nithra Matrimony has profiles of Computer system work from different fields like software engineers, web developers, system analysts, system admin, content development, etc.


Tamil Brides/Grooms Computer system work Matrimony

Every profile in Nithra Matrimony is verified. You can search for your partner in your religion and caste. We have 50+ castes and sub-castes. Nithra Matrimony is one of the most trusted matrimony sites and has budget-friendly packages. Lakhs of brides and grooms have registered their profiles in Computer system work. If you are searching for your partner for a long time, register your profile in Nithra Matrimony and put an end to your search.


Our
Nithra Matrimony App
Nithra Matrimony is one among the best matrimonial service you could find, very simple and easiest one so far to get a better soulmate for your life, and it is user friendly and designed precisely for all the Tamil people who are searching for a partner, they can find out their ally from the matched list reliant on their bias. Use our Nithra Matrimony App to keep track of your beloved spouse hunt.