Company Employee Profession Matrimonial For Brides and Grooms
Are you searching for a company employee matrimony in Tamilnadu? Nithra matrimony is one of the top platforms for finding a life partner in this industry, with more than lakh profiles of Company employee Professionals. Through Nithra matrimony, many brides and grooms have found their life partners and also got happily married. We have various profiles of company employees from different castes like Gounder, Sozhiya Vellalar, Viswakarma, Nadar, Mudaliyar, Vanniyar, Devar, Dravidar, Devanga, Sourashtra, etc. We also have profiles from religions like Hindu, Muslim, and Christians. You can find your partner as per your expectations. In Nithra matrimony we have filter options, there you can select the categories like color, location, appearance, height, salary, mother tongue, language speaking, etc.
Read more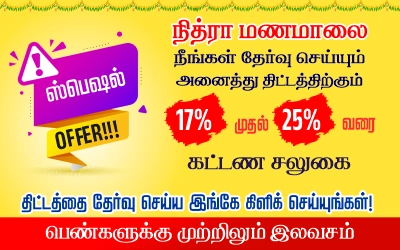 Company Employee Matrimony Brides
Company Employee Matrimony Grooms
Best Company Employee Matrimonial Site

By entering your mobile number on our Tamil matrimony login your profile will be registered. Then drop all your expectations. We display you the profiles of brides and grooms according to your expectations. For both brides and grooms, the registration is completely free. Grooms should activate plans like standard, silver, gold, diamond, and platinum. Brides have no need to activate any plans until their marriage is fully free for them. When compared to other matrimonies, Nithra matrimony has budget-friendly plans.


Tamil Brides/Grooms Company Employee Professional Matrimony

By looking through the profiles of the company employee Professional Grooms and brides registered on this platform, you may also put an end to your search for true love. Profiles of Company employee who works in different sectors like IT profession, public sectors, private sectors, core companies and resides in different cities like are also available, and those who reside in cities like Bangalore, Chennai, Hyderabad, etc. are also available. By looking through the thousands of company employee professions profiles in Nithra Matrimony, you can find your spouse.


Our
Nithra Matrimony App
Nithra Matrimony is one among the best matrimonial service you could find, very simple and easiest one so far to get a better soulmate for your life, and it is user friendly and designed precisely for all the Tamil people who are searching for a partner, they can find out their ally from the matched list reliant on their bias. Use our Nithra Matrimony App to keep track of your beloved spouse hunt.