Find Your Soulmate Coimbatore Second Marriage Matrimony
Looking for a bride or groom for a second marriage? Then, Coimbatore second marriage matrimony will help you to get thousands of profiles for remarriage. Want a partner in Coimbatore? Grooms who are looking for second marriage brides in Coimbatore can register their profile at Nithra Matrimony and get plenty of profiles. Grooms can get the first five Coimbatore second marriage brides' profiles for free.
For getting more profiles, grooms need to activate a plan which is available at our site. There are five plans, all these plans are low in cost when compared to other matrimonial sites. Are you a bride and seeking a second marriage grooms in Coimbatore? We have great news! Brides need not activate any plan. They can get thousands of Coimbatore second marriage grooms profiles for free.
Read more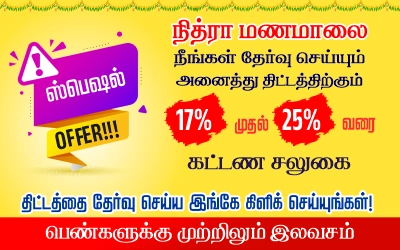 Coimbatore Second Marriage Matrimony Brides
Coimbatore Second Marriage Matrimony Grooms
Verified Coimbatore Second Marriage Matrimony for Brides & Grooms

Second marriage community matrimony in Coimbatore user a friendly one. As Coimbatore is a big city in Tamil Nadu, there are more than thousands of profiles have been registered on our site. People can also select their partner according to their preferences in many categories like religion, caste, sub-caste, profession, education, etc. If you want to get a partner soon, all you need to do is soon create your profile and start your search.


No. 1 Second Marriage Matrimony in Coimbatore For Brides & Grooms

Coimbatore second marriage matrimony login in Nithra matrimony will help you to start a new and fresh life by finding you a new spouse. If you are confused about your remarriage, throw away all your confusion and begin a new life with Coimbatore second marriage matrimony free search. Believe everything happens for a reason and lead a happy life with your new spouse through Nithra Matrimony.


Our
Nithra Matrimony App
Nithra Matrimony is one among the best matrimonial service you could find, very simple and easiest one so far to get a better soulmate for your life, and it is user friendly and designed precisely for all the Tamil people who are searching for a partner, they can find out their ally from the matched list reliant on their bias. Use our Nithra Matrimony App to keep track of your beloved spouse hunt.