Find your perfect partner on Chettiar Divorcee matrimony
Are you eagerly searching for the chettiar divorced brides/grooms for your son/daughter, brothers, or sister? Then you are at the right place. Yes! Nithra matrimony allows free registration for both the brides and grooms. It was the most safest and secure place to find your future partner.
Today people would like to marry a person who is in the same profession, which makes them understand each other both professionally and personally. If you are looking for professional based profiles like doctors, engineer those profiles were also available on the chettiar divorcee matrimony.
Read more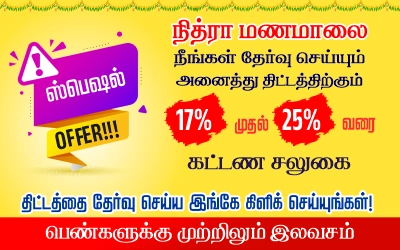 Chettiar Divorced Matrimony Brides
Chettiar Divorced Matrimony Grooms
Your preferable partner on Chettiar Divorcee matrimony

Some brides would prefer the chettiar divorced groom who can match their horoscope. If so, you can mention your horoscope and dosam information. When a suitable profile arrives you can begin your married life. Using chettiar divorcee matrimony free search, grooms and brides can mention their expectations and meet the right person on Nithra matrimony.

Chettiar matrimony divorced site will provide you with the best profiles, based on the information that you have provided. You need not struggle to understand your partner, through our site you can view the groom and brides profile and can directly communicate and understand them.


Choose the best profile from Chettiar Divorcee matrimony
You can select the profile based on the mother tongue, sub-caste. Free Chettiar divorcee matrimony will give the complete detail of the bride and groom, even though if you have any doubts, you can clear your doubts through us. We have given our WhatsApp chat box at the bottom of our site to clear your queries.

Through Tamil Chettiar divorcee matrimony, you can find your partner from all the districts in Tamil Nadu. If you are an NRI groom and waiting to find your soulmate, then you can visit Nithra matrimony and marry your dream partner.


Our
Nithra Matrimony App
Nithra Matrimony is one among the best matrimonial service you could find, very simple and easiest one so far to get a better soulmate for your life, and it is user friendly and designed precisely for all the Tamil people who are searching for a partner, they can find out their ally from the matched list reliant on their bias. Use our Nithra Matrimony App to keep track of your beloved spouse hunt.