Want To Know Where Is Your Soulmate In Born Again?
Struggling to find your partner in life? Nithra Matrimony is here to make your worries simple. Many brides and grooms are already registered for their partners in Born Again. Still, didn't enroll your details? Give your details today to make your future bright on Nithra Matrimony. Life is one time make it worthwhile by choosing your desired life partner in the best matrimony, that is Nithra Matrimony.
Read more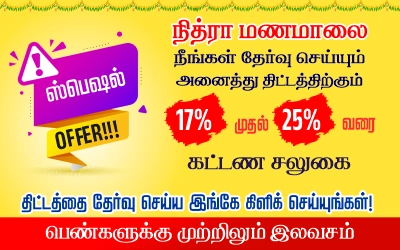 Born Again Matrimony Brides
The profile you are looking for is currently unavailable.
You can register your details and we will notify you once matching profiles are accessed.

Born Again Matrimony Grooms
The profile you are looking for is currently unavailable.
You can register your details and we will notify you once matching profiles are accessed.

Hindu - Caste
Muslim - Caste
Christian - Caste
By Profession
By City
By Education
By Dosham
Second Marriage By Caste
Divorcee By Caste
Divorcee By Location
Second Marriage By Location
Meet your special one in Born Again

Are you searching for the Born Again community partners in your location? Nithra Matrimony is Tamil Nadu's leading and number one matchmaking website. People who are searching for the finest and safest matrimonial websites in Tamil Nadu can now sign up for Nithra Matrimony. They provide free matchmaking enrollment and also have thousands of grooms and bridal of born again with their photos, and details listed for you. If you do have any concerns about the site or finding your best match, you can contact Nithra Matrimony's customer support, who would be very friendly and will rapidly clear your doubts. Nithra Matrimony provides you with an exclusive chance to search.

Are you curious about it? It is free for females until their marriage? Yes, females get an offer that is free until they marry. And many other offers for male also. Isn't this a once-in-a-lifetime opportunity? So, please register at Nithra Matrimony right away.


Apply Today for Born Again Profiles

You should not worry about the safety, the privacy of our customers is 100% secure. Nithra Matrimony site provides interesting plans ranging from standard to platinum that is extremely beneficial to clients. We have authentic and genuine profiles from all over Tamil Nadu on our website. Select your favorite soulmate in Born Again. Users who are looking up the NRI profiles are also available on Nithra Matrimony. No more worries for the rural and village people who are in search of their partners can get on our site.

Simply enter your information and upload a photo. Following verification, we will display the matched profiles based on the information you provided. If you liked a profile, we will notify both parties and arrange a meeting of mutual interest. Do you need a bride or groom in Born Again for your son/daughter, sister/brother, or friend? You may register on their behalf.


How can you find your matching partner in Born Again?

Profiles are listed here by job role, caste, sub-caste, religion, native, or age, based on your choices select your loved ones. Nithra matrimony provides free registration. Download Nithra Matrimony in a few simple steps, browse through many profiles and choose your suitable life partner. Some people may expect partners with qualifications and in some particular jobs like engineering, doctor, executive officers, or government professions according to your preference you shall shuffle and get your life partner in Born Again on Nithra Matrimony.

If you are not looking up NRI profiles you may choose from your desired locations. It was a perfect place to find your soul mates on Born Again in Tamil Nadu. If you are in the process of marriage register now, search and find your better partner on Born Again in Nithra Matrimony and be happy forever.


Our
Nithra Matrimony App
Nithra Matrimony is one among the best matrimonial service you could find, very simple and easiest one so far to get a better soulmate for your life, and it is user friendly and designed precisely for all the Tamil people who are searching for a partner, they can find out their ally from the matched list reliant on their bias. Use our Nithra Matrimony App to keep track of your beloved spouse hunt.