The Best Matrimony Portal For B.Com. Taxation Tamil Bride And Groom
Tamil B.Com graduate brides and grooms profiles are listed at Nithra matrimony with 100% verification. Just visit Nithra matrimony and start creating your profile by providing your mobile number, the registration is free for all Tamil brides and grooms. You can have more filter options, you can provide your horoscope details, marital status, hobbies, job, salary, contact information, and various other expectations. If you are expecting the B.Com Taxation Grooms then register today at Nithra matrimony and meet your lovable partner. More educated profiles are also given on B.Com Matrimonial site.
Read more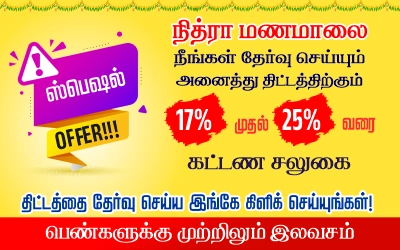 Bcom Taxation Brides
Bcom Taxation Grooms
Hindu - Caste
Muslim - Caste
Christian - Caste
By Profession
By City
By Education
By Dosham
Second Marriage By Caste
Divorcee By Caste
Divorcee By Location
Second Marriage By Location
Find Your B.Com. Taxation Life Companion On Nithra Matrimony

Nithra Matrimony has a list of B.Com Matrimony Brides and Grooms who are employed as lecturers, teachers, professors, financial risk managers, stockbrokers, data and financial analysts, tax officials, managers, and experts in colleges as well as in the state and central governments. You can also search by using profession, education, caste, religion, and location. At B.Com Taxation graduate Matrimony Christian, Muslim and Hindu profiles were also given for the B.Com Taxation Brides.


How To Search For B.Com. Taxation Profiles On Nithra Matrimony

B.Com Taxation Matrimony also shows the profiles from various other professions like Doctor, engineer, entrepreneur, supervisors, managers, etc. Plans are at affordable prices. No caste bar matrimony, divorce, and second marriage matrimony are also accessible at Nithra matrimony. If you are looking for the right partner visit B.Com Taxation matrimonial and choose the lovable partner.


Our
Nithra Matrimony App
Nithra Matrimony is one among the best matrimonial service you could find, very simple and easiest one so far to get a better soulmate for your life, and it is user friendly and designed precisely for all the Tamil people who are searching for a partner, they can find out their ally from the matched list reliant on their bias. Use our Nithra Matrimony App to keep track of your beloved spouse hunt.