The Best Matrimony Portal For B.Com. Accounting and Finance Tamil Bride And Groom
Are you looking for the best B.Com Accounting and Finance Matrimony for a long time in Tamil Nadu? Then think that your search is over from now. Tamil B.Com Accounting and Finance Matrimony has countless of B.Com Accounting and Finance Brides and Grooms profiles who work in various fields such as Accountant, Financial Analyst, Chartered Accountant, Account Manager, Account Executive, and so on in different cities like Chennai, Coimbatore, Trichy, etc. Several brides and grooms have completed B.Com. Accounting and Finance are searching for their future partners for a long time but ended in vain.
Read more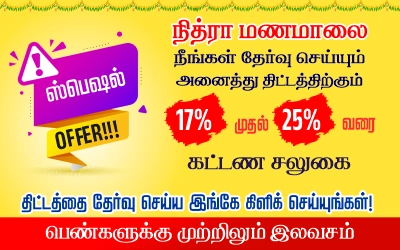 Bcom Accounting Finance Brides
Bcom Accounting Finance Grooms
Hindu - Caste
Muslim - Caste
Christian - Caste
By Profession
By City
By Education
By Dosham
Second Marriage By Caste
Divorcee By Caste
Divorcee By Location
Second Marriage By Location
Find Your Perfect Match On B.Com. Accounting and Finance Community Matrimony

Enter your required details of yours and register your profile in Nithra Matrimony for free. B.Com Accounting Grooms get the first five profiles for free after the registration process, after that they have to activate any of the plans available on our site. But brides no need to activate any of the plans. Lakhs of B.Com Brides have already registered their profile with us. Thousands of them have found their B.Com Grooms through our site. Thus we are known for user-friendly matrimonial sites.


How To Search For B.Com. Accounting and Finance On Nithra Matrimony

We have a special feature called filter option, there you can search for your partner from different categories like religion, caste, sub caste, profession, education, age, marital status, location, language, physical appearance, zodiac sign, doshas, complexion, and so on. Nithra Matrimony is one of the trusted B.Com Matrimonial sites which has lakhs of verified profiles in Tamil Nadu. Thousands of B.Com graduate Brides & Grooms got married to their partners who met through our site. So, don't waste your time just by dreaming. Take your first step by registering in Nithra Matrimony!!


Our
Nithra Matrimony App
Nithra Matrimony is one among the best matrimonial service you could find, very simple and easiest one so far to get a better soulmate for your life, and it is user friendly and designed precisely for all the Tamil people who are searching for a partner, they can find out their ally from the matched list reliant on their bias. Use our Nithra Matrimony App to keep track of your beloved spouse hunt.