The Best Matrimony Portal For B.A. English Literature Tamil Bride And Groom!
English becomes the universal language today many NRI profiles may sometimes expect B.A English Literature Brides for even more communication. If you are expecting to get a partner from B.A graduate then you shall find your love partner at Nithra matrimony. B.A English Literature Grooms who is working as a school teacher, college lecturer, and principal in private and government sectors are also listed.
Read more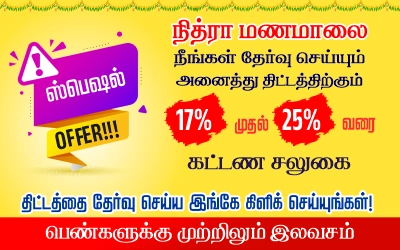 B.A. English Literature Brides
B.A. English Literature Grooms
Find Your Perfect Match On B.A. English Literature Matrimony

B.A. English Matrimony Literature Brides & Grooms from numerous Hindu castes, including Christian and Muslim profiles, include Vaniya Chettiar Pillai, Kallar, Chettiar, Maruthuvar, Parkava Kulam / Udayar, Vannar, Naicker, Brahmin - Iyer, Pallan / Devandra Kula Vellalar, Reddy, and various sub-castes. Our service provides matches for Brethren, Latin Catholic, Evangelist, Seventh-day Adventist, Muslim - Syed, Muslim - Hanafi, Muslim - Dekkani, Muslim - Arain, Muslim - Pathan, and Muslim - Shafi profiles are listed at B.A.English Literature Matrimony site.


How To Search For B.A. English Literature Profiles On Nithra Matrimony

In your desired area, select Tamil B.A. English Literature Matrimony profiles. Some people prefer a partner who has certain expectations. You have a wide range of filter options, including the ability to mention your expectations, salary, family details, and other opportunities. You can choose a profile from the B.A English Literature Matrimonial site with various professions like Doctor, Engineer, Manager, Supervisor, Police you can even select the profile if you like any of them.


Our
Nithra Matrimony App
Nithra Matrimony is one among the best matrimonial service you could find, very simple and easiest one so far to get a better soulmate for your life, and it is user friendly and designed precisely for all the Tamil people who are searching for a partner, they can find out their ally from the matched list reliant on their bias. Use our Nithra Matrimony App to keep track of your beloved spouse hunt.