Auditor Matrimony Profile in Tamil Nadu
If you are working as an auditor searching for the bride/groom with the same profession then you can find lakhs of auditor profiles at Nithra matrimony. It is the safest matrimony in Tamil Nadu. All the profiles are 100% verified and every information provided by the users are kept safe. Auditor jobs are the most valuable jobs and have many scope. You can also find the auditor profiles based on the locations such as Chennai matrimony, Salem matrimony, Erode matrimony and all profiles from other locations in Tamil Nadu are available at Nithra matrimony.
Read more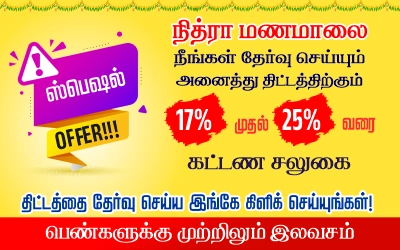 Auditor Professional Matrimony Brides
Auditor Professional Matrimony Grooms
Auditor Profession Matrimony Brides/Grooms

Government auditor job holder's profiles are also available at our matrimony. Many types of auditor jobs including internal auditor, Tax auditor, forensic auditor, and external auditor job profiles from all over Tamil Nadu are listed at Nithra matrimony. Caste-based profiles like Vanniyar matrimony, Nadar matrimony, Adi Dravida matrimony, and Chettiyar matrimony are also there at Nithra matrimony. People can also explore profiles on the basis of languages like Kannada, Telugu,Tamil matrimony to find their life partner.


Best Auditor Matrimonial Site

Nithra matrimony is the best matrimony site in Tamilnadu. Thousands of profiles under each caste are given in religion matrimony like Hindu matrimony, Muslim matrimony, and Christian matrimony. You can sign in with free registration this is applicable for both brides and grooms. Not only auditor profiles even auditor job holders willing to marry a bride/groom in other professions like Engineer, Lawyer, Doctor for those also Nithra matrimony provides lakhs of profiles. Start registering your profile today without any payment and activate your profile with budget friendly premium packages. It's your choice to choose your partner at the right matrimony!!


Our
Nithra Matrimony App
Nithra Matrimony is one among the best matrimonial service you could find, very simple and easiest one so far to get a better soulmate for your life, and it is user friendly and designed precisely for all the Tamil people who are searching for a partner, they can find out their ally from the matched list reliant on their bias. Use our Nithra Matrimony App to keep track of your beloved spouse hunt.