Army Matrimonial Community Matrimony Grooms
Army people live a different lifestyle than normal humans and have distinct moral values. Leading a life with them will be completely a thrilling one. Most of the matrimony sites do not have Army person profiles. And a lot of brides and grooms are searching for the best Army matrimony Tamilnadu but in vain. Are you a bride or groom from the army or searching for a perfect match for your lovable ones in Tamil Nadu? Now Nithra matrimony has launched Army matrimony Tamil.
Read more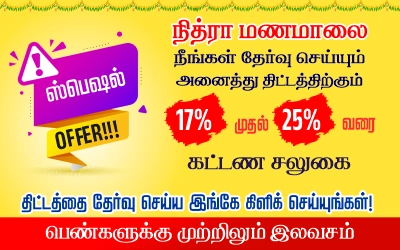 Army Matrimony Brides
The profile you are looking for is currently unavailable.
You can register your details and we will notify you once matching profiles are accessed.

Army Matrimony Grooms
Best Army Matrimonial Site

Army matrimony login gives you several profiles of grooms and brides in this field. Many of the brides and grooms are struggling to find their partners as they don't have any time. No worries at all! You can search for your partner on your mobile phone itself. Register your profile in Nithra Matrimony by browsing our website or installing the Nithra Matrimony app in the google play store. For registration, enter your details. Once the registration is completed, you will get a verification call from our team.


Tamil Brides/Grooms Army Matrimony

Army matrimony free search leads you to many profiles in the Army profession. Both brides and grooms get free registration. Nothing is more worthy than getting a partner to your expectations. Just drop your expectations here, you will get profiles according to your expectations. Many brides and grooms from the Army profession in Tamil Nadu got married and created their life with great joy. So register your profile in Nithra Matrimony and you too create great joy in your life.


Our
Nithra Matrimony App
Nithra Matrimony is one among the best matrimonial service you could find, very simple and easiest one so far to get a better soulmate for your life, and it is user friendly and designed precisely for all the Tamil people who are searching for a partner, they can find out their ally from the matched list reliant on their bias. Use our Nithra Matrimony App to keep track of your beloved spouse hunt.