Best Airline Profession for Brides/Grooms
Are you working in the Airline profession? Waiting for long days to select a suitable better half for you. Give up your worries now and find the suitable bride/groom through Nithra matrimony free search and get enormous profiles and pick up the right one and begin your life from here. The simple thing you need to do is simply register on Nithra Matrimonial site. Registration of profile is completely at free of cost. After registering you can start to search for the profile depending upon your choice. While registering details you can mention all your expectation.
Read more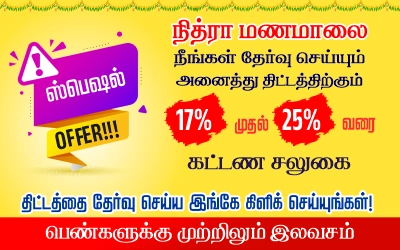 Airline Professional Matrimony Brides
Airline Professional Matrimony Grooms
Tamil Brides/Grooms in Airline Profession

You can use the filter option for finding profiles in Airline Profession and can get the expected professional by filtering age, complexity, and many more. You can get various airline professions from different categories like Nadar matrimony, Thevar matrimony, Chettiar Matrimony, Chennai matrimony, Coimbatore Matrimony, Cuddalore matrimony, Trichy Matrimony, Krishnagiri Matrimony, Dharmapuri Matrimony, etc.. It's time to find the perfect partner! Move a step forward to choose.


Airline Professional Matrimony Bride/ Grooms

Nithra Airline Matrimonial site provides you with lakhs of verified profiles. Hundreds of new profiles are verified daily. So, other than trusting unknown sites you can choose the best matchmaking airline matrimony site to get the best prince charming. Airhostess now rush into Nithra matrimony free search and can get satisfied grooms for you and begin your happy wedding as most memorable through Nithra Matrimony!!


Our
Nithra Matrimony App
Nithra Matrimony is one among the best matrimonial service you could find, very simple and easiest one so far to get a better soulmate for your life, and it is user friendly and designed precisely for all the Tamil people who are searching for a partner, they can find out their ally from the matched list reliant on their bias. Use our Nithra Matrimony App to keep track of your beloved spouse hunt.