The Best Matrimony Portal For 10th / SSLC Tamil Bride And Groom!
According to a survey, there are approximately 82% of people are literate and only 18% of people are illiterate in Tamil Nadu. Maximum every people are completed their degrees. Meanwhile, some people are completed 10th / S.S.L.C. Nowadays, SSLC Brides and Grooms keep struggling to search find their spouses. Many matrimonial sites don't have profiles of 10th Pass brides and grooms.
Read more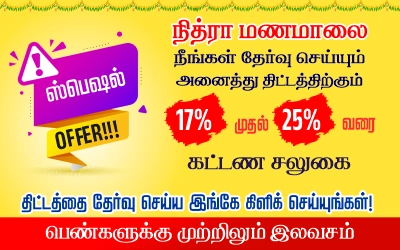 10th Sslc Higher Secondary Brides
10th Sslc Higher Secondary Grooms
Hindu - Caste
Muslim - Caste
Christian - Caste
By Profession
By City
By Education
By Dosham
Second Marriage By Caste
Divorcee By Caste
Divorcee By Location
Second Marriage By Location
Find Your Perfect Match On 10th / SSLC Matrimony

If you are searching for the best Undergraduate Matrimony in Tamil Nadu? Then Nithra Matrimony is the right choice. 10th pass matrimony search gives you enormous profiles of 10th Pass grooms and brides working in different fields like labor, housekeeping, driver, conductor, mechanic, self-employee, warden, etc. We have many government jobs and NRI profiles too.


How To Search For 10th / SSLC On Nithra Matrimony

SSLC matrimony has several categories for users to find and filter the right one such as religion, caste, sub-caste, profession, education, location, zodiac signs, doshas, mother tongue, family background, marital status, physical appearance, and complexion. The registration on our site is free for both the brides and grooms. Isn't this a good opportunity to find your spouse as you expected? Don't waste your time thinking, register your profile in Nithra Manamaalai.


Our
Nithra Matrimony App
Nithra Matrimony is one among the best matrimonial service you could find, very simple and easiest one so far to get a better soulmate for your life, and it is user friendly and designed precisely for all the Tamil people who are searching for a partner, they can find out their ally from the matched list reliant on their bias. Use our Nithra Matrimony App to keep track of your beloved spouse hunt.