Workshop Matrimonial Community Matrimony Grooms
Are you tired of wasting all your money on brokers to find your partner? Then this is fantastic news for you! Nithra matrimony has lakhs of bride and groom profiles. Workshop matrimony login in Nithra Matrimony takes you to a variety of Workshop brides and grooms. Clients in this profession, consider your partner in the same profession! You can also make your dreams come true by registering with Nithra matrimony and creating a profile.
Read more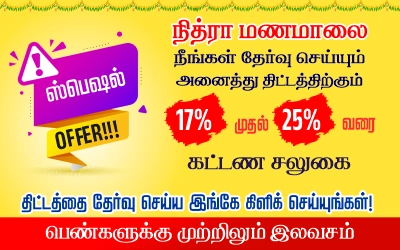 Workshop Professional Matrimony Brides
The profile you are looking for is currently unavailable.
You can register your details and we will notify you once matching profiles are accessed.

Workshop Professional Matrimony Grooms
Best Workshop Matrimonial Site

Both brides and grooms can register for free on Nithra matrimony. In comparison to other matrimony sites and brokers, Nithra matrimony offers more affordable plans such as standard, silver, gold, diamond, and platinum. Brides do not need to activate these plans until they marry. To view the bride's profiles, grooms should activate any of the plans that suit their needs. Our team verifies every profile, and all of your information will be kept strictly confidential.


Tamil Brides/Grooms Workshop Matrimony

Nithra matrimony is the best Workshop matrimony in Tamil Nadu. Everyone has different expectations of their partners. Nithra matrimony assists you in finding a partner who meets your requirements. Workshop matrimony login in Nithra matrimony displays a large number of profiles. You can easily select your partner in this field. Many of the brides have found their partners in this field. So, create a profile on Nithra matrimony and start looking for your soulmate.


Our
Nithra Matrimony App
Nithra Matrimony is one among the best matrimonial service you could find, very simple and easiest one so far to get a better soulmate for your life, and it is user friendly and designed precisely for all the Tamil people who are searching for a partner, they can find out their ally from the matched list reliant on their bias. Use our Nithra Matrimony App to keep track of your beloved spouse hunt.