Tamil Matrimony In Villupuram
People of Villupuram, wonderful news for you! Yes, Nithra Matrimony fulfils your wish. If you are looking for the perfect life partner for a long time in Villupuram now enroll for marriage matrimony in Villupuram. There are many brides/grooms profiles mentioned here from Villupuram and the surrounding area. Community and religion-based profiles in Villupuram have been updated. Do you have a job in Villupuram? Are you looking for a bride or a groom in Villupuram? Here is the solution to every one of your queries.. Nithra Matrimony was Tamil Nadu's No.1 leading free matrimony sites in Villupuram. where you can get profession-based, location-based, caste, and religious-based partners according to your interest.
Read more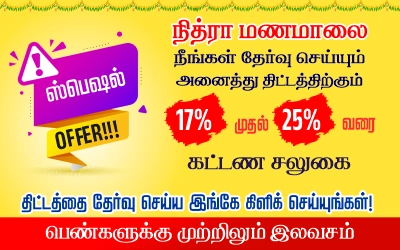 Viluppuram Matrimony Brides
The profile you are looking for is currently unavailable.
You can register your details and we will notify you once matching profiles are accessed.

Viluppuram Matrimony Grooms
The profile you are looking for is currently unavailable.
You can register your details and we will notify you once matching profiles are accessed.

Hindu - Caste
Muslim - Caste
Christian - Caste
By Profession
By City
By Education
By Dosham
Second Marriage By Caste
Divorcee By Caste
Divorcee By Location
Second Marriage By Location
Find Suitable Villupuram Matrimony Profiles

Villupuram is famous for malligai, Koodal Managar, and so on likewise, Nithra matrimony is familiar for free registration both for brides and grooms. Numerous profiles from Villupuram have already enrolled their information on our site. It was an easy and simple method to start registering just provide your basic information like Name, horoscope details, family details, and contact number. In Nithra matrimony we provide 100% confidentiality for your details and profiles. Villupuram matrimony profiles have useful and compared to other marriages, these packages are practical and affordable for finding your particular one.


Best Matrimonial In Villupuram

Do not waste your time and money on brokerages and untrusted matrimonies. For safe and secure use our most confidential Villupuram matrimony free search site. For your convenient remaining district profiles are also listed here. Almost verified profiles only listed for you. You can iclude all your preferences like complexion, job, and other preferences on our Nithra matrimony. The filter option is also provided here. If you are interested in other community profiles you can visit at those profiles too. Muslim, Christian, and Hindu-based Brides / Grooms profiles are available for matrimony in Villupuram. Register Now and stay with us to connect to your Dream Partner !!


Our
Nithra Matrimony App
Nithra Matrimony is one among the best matrimonial service you could find, very simple and easiest one so far to get a better soulmate for your life, and it is user friendly and designed precisely for all the Tamil people who are searching for a partner, they can find out their ally from the matched list reliant on their bias. Use our Nithra Matrimony App to keep track of your beloved spouse hunt.