Best Unmarried Matrimony Site For Brides & Grooms In Tamilnadu
Life is very hard to face the struggles forlorn if you are unmarried, Nithra matrimony helps you to dig up your companion. There are vast profiles based on Unmarried Matrimony. Sketch your true love through our site. You can find your Brides / Grooms based on Religion, Various communities profiles are updated such as Vannia kula Kshatriya, Devanga, Nadar, Gounder, Devar, etc…
Read more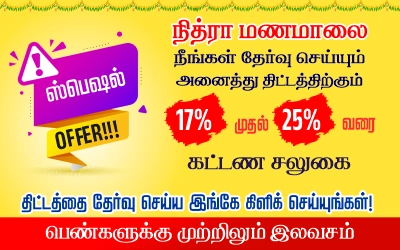 Unmarried Matrimony Brides
| | | |
| --- | --- | --- |
| Name | : | Manasha |
| Age | : | 18yrs |
| Caste | : | Vannia Kula Kshatriyar |
| Marital Status | : | Never Married |
| Qualification | : | 12th / H.S.S. |
| City | : | Salem |
To View Full Profile & Contact
| | | |
| --- | --- | --- |
| Name | : | காளீஸ்வரி |
| Age | : | 18yrs |
| Caste | : | Agamudayar / Arcot / Thuluva Vellala |
| Marital Status | : | Never Married |
| Qualification | : | Below 10th |
| Work | : | Labour |
| City | : | Madurai |
To View Full Profile & Contact
| | | |
| --- | --- | --- |
| Name | : | ஹரிப்பிரியா |
| Age | : | 18yrs |
| Caste | : | Bhoyar |
| Marital Status | : | Never Married |
| Qualification | : | B.Com. (Computer Application) |
| Work | : | Studying |
| City | : | Coimbatore |
To View Full Profile & Contact
| | | |
| --- | --- | --- |
| Name | : | Rajalakshmi C |
| Age | : | 18yrs |
| Caste | : | Pallan / Devandra Kula Vellalan |
| Marital Status | : | Never Married |
| Qualification | : | 12th / H.S.S. |
| City | : | Theni |
To View Full Profile & Contact
| | | |
| --- | --- | --- |
| Name | : | Vimala |
| Age | : | 18yrs |
| Caste | : | Yadav |
| Marital Status | : | Never Married |
| Qualification | : | B.Sc |
| Work | : | Studying |
| City | : | Vellore |
To View Full Profile & Contact
Unmarried Matrimony Grooms
| | | |
| --- | --- | --- |
| Name | : | வீரமணி |
| Age | : | 20yrs |
| Caste | : | Naicker |
| Marital Status | : | Never Married |
| Qualification | : | 10th / S.S.L.C. |
| Work | : | Agriculture / Farmer |
| City | : | Tiruchirappalli |
To View Full Profile & Contact
| | | |
| --- | --- | --- |
| Name | : | Vinoth |
| Age | : | 20yrs |
| Caste | : | Chettiar |
| Marital Status | : | Never Married |
| Qualification | : | I.T.I. Mechanic (Motor Vehicle) |
| Work | : | Mechanic |
| City | : | Coimbatore |
To View Full Profile & Contact
| | | |
| --- | --- | --- |
| Name | : | Mahaveer Sachin |
| Age | : | 21yrs |
| Caste | : | Arunthathiyar |
| Marital Status | : | Never Married |
| Qualification | : | B.E. Mechanical Engineering |
| Work | : | Design Engineer |
| City | : | Coimbatore |
To View Full Profile & Contact
| | | |
| --- | --- | --- |
| Name | : | Gowrishankar |
| Age | : | 21yrs |
| Caste | : | Brahmin - Iyer |
| Marital Status | : | Never Married |
| Qualification | : | 10th / S.S.L.C. |
| Work | : | Progithar |
| City | : | Thanjavur |
To View Full Profile & Contact
| | | |
| --- | --- | --- |
| Name | : | R. Yuvaraj |
| Age | : | 21yrs |
| Caste | : | Vannia Kula Kshatriyar |
| Marital Status | : | Never Married |
| Qualification | : | 12th / H.S.S. |
| Work | : | Operator |
| City | : | Kallakurichi |
To View Full Profile & Contact
Find Your Perfect Partner Brides & Grooms On Never Married Matrimony

Nithra Manamaalai is the most trusted matrimony service with thousands of happy clients. We render free premium membership for females and free registration for Brides / Grooms. Tamil Nadu No.1 matrimony helps you to pick a suitable partner. Our purpose is to build a light-hearted life through happy marriages.


Trusted Brides & Grooms For Never Married Matrimony Sites

We simplify the way to create your free account to sort out your profile in your chosen place. For all brides and grooms, there are lakhs of verified profiles available with us. 100% customer service is provided by our team. The Never Married Matrimony site is also awaiting you with various profession profiles like an officer, agriculture, supervisor, engineer, marketing, company employee, army, and government officers. Never marry the one you can live with, marry the one you cannot live without. Start your dream life by joining Nithra Matrimony!!


Our
Nithra Matrimony App
Nithra Matrimony is one among the best matrimonial service you could find, very simple and easiest one so far to get a better soulmate for your life, and it is user friendly and designed precisely for all the Tamil people who are searching for a partner, they can find out their ally from the matched list reliant on their bias. Use our Nithra Matrimony App to keep track of your beloved spouse hunt.