No.1 Tiruppur Divorced Matrimony For Tamil Brides & Grooms
The profiles were included in the Tiruppur divorcee matrimony free search according to location, community, religion, and marital status. The most reputable and secure website to find a life partner was Nithra Matrimony if you were seeking a bride or groom for your son or daughter register their information on our site.
For divorced brides from Tiruppur, there are profiles from Christians, Muslims, and Hindus listed on our site. Are you anticipating Tiruppur based grooms? Register with Nithra Matrimony, select the ideal partner and view a tiruppur divorcee grooms Profiles.
Read more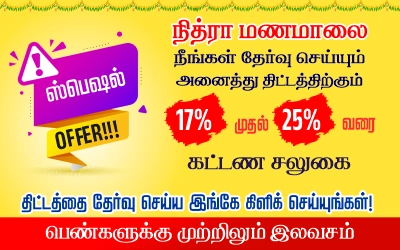 Tiruppur Divorced Matrimony Brides
Tiruppur Divorced Matrimony Grooms
Find a suitable partner on Tiruppur divorcee matrimony

Tiruppur divorcee brides Profiles are provided for all communities and religions. Then why are you still thinking, visit Nithra matrimony and make a beautiful life. Divorced grooms in Tiruppur can search the brides profile by using any of the valuable matrimonial plans, which are less and budget-friendly when compared with other Tamil matrimonial sites.

Divorced brides in Tiruppur can search for the groom on the basis of marital status, and profession. Both brides and grooms can show their interest in the profile they like. Using filter options like horoscope, age, income, caste, hobbies, complexion, and disabilities you can mention your thoughts and expectations through which you can get relevant profiles that match you.


Create a profile on Tiruppur divorcee matrimony to lead a happy life

On Nithra matrimony you can get a complete detail of the bride or groom by entering into Tiruppur divorcee matrimony login, divorce, awaiting, and never married profiles from all over Tamil Nadu are listed here. Clear your queries on Tiruppur divorcee matrimony through message or phone call, we are here to guide you at any time!


Our
Nithra Matrimony App
Nithra Matrimony is one among the best matrimonial service you could find, very simple and easiest one so far to get a better soulmate for your life, and it is user friendly and designed precisely for all the Tamil people who are searching for a partner, they can find out their ally from the matched list reliant on their bias. Use our Nithra Matrimony App to keep track of your beloved spouse hunt.