Best matrimonial site in Tirupattur
Looking for your better half in IT filed that too in Tirupattur? Are you tired of looking for bride/grooms for your son/daughter or relatives in Tirupattur through a broker or another matrimony? Only looking for profiles in Tirupattur, Tamilnadu? For all those one good news. Yes! Now our free matrimony sites in Tirupattur fulfill all your needs at right time. You can get IT profession profiles in Tirupattur Matrimony for brides & grooms. And can stay in your native with your fulfilled life by getting the right spouse.
Read more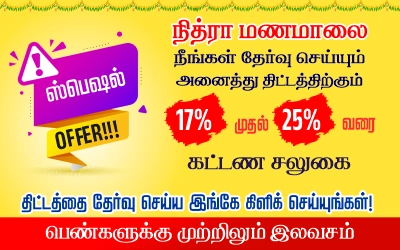 Tirupattur Matrimony Brides
Tirupattur Matrimony Grooms
Find Your Perect Match on Tirupattur Matrimony

Our Tirupattur matrimony free search guides you with searching profiles in both languages such as Tamil and English and can get free registration for your profiles. Tirupattur Matrimony stands as the best matrimony site in Tirupattur compared with other sites and many users are getting into this Tamil matrimony to find a suitable bride/groom in the easiest way. Marriage matrimony in Tirupattur guides the people at the proper end with their customer care when they get confused in sites.


Best Tirupattur Matrimony Profiles

In Tirupattur Tamil Matrimony proper information is displayed at the site on the home page such as plan details, registration details, features of our matrimony in Tirupattur, various blog information to make aware of searching profiles before getting into the registration part, Frequently Asked Questions by users are also posted in site for their clear reference. Can follow us at any time on Facebook, Twitter, or Instagram. Selecting the right soulmate is a precious gift to the preferred life! Start your search now in Tirupattur Matrimony for brides&grooms.


Our
Nithra Matrimony App
Nithra Matrimony is one among the best matrimonial service you could find, very simple and easiest one so far to get a better soulmate for your life, and it is user friendly and designed precisely for all the Tamil people who are searching for a partner, they can find out their ally from the matched list reliant on their bias. Use our Nithra Matrimony App to keep track of your beloved spouse hunt.