Trusted Tirunelveli Divorce Matrimony For Tamil Brides & Grooms
Are you divorced and planning to marry again? Waiting for a perfect partner? Stop your wait and start to search for the perfect one at the right matrimony. Searching for the best Tirunelveli divorcee matrimony in Tamil Nadu? If so, take a look at Nithra Matrimony which has enormous numbers of divorced grooms in Tirunelveli.
Divorced people think that their life is over after a divorce, but it is a new start for a fresh life. We have Tirunelveli divorcee bride Profiles and groom profiles from different professions. You can search for Tirunelveli divorcee grooms' Profiles and brides' profiles as per your wish in many categories.
Read more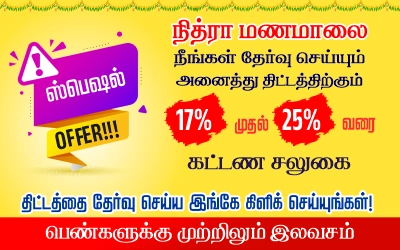 Tirunelveli Divorced Matrimony Brides
Tirunelveli Divorced Matrimony Grooms
Find your Bride/Groom in Tirunelveli Divorcee Matrimony

People lack trust in matrimony because so many matrimonial websites commit fraud. But our Nithra Matrimony is the most trustworthy site because all the profiles on our site are verified. So throw away all your fear and start your search for your soulmate to start a new life on our site. Register your profile on our site for free, browse Tirunelveli divorcee matrimony free search, and get a tremendous of bride's and groom's profiles as per your expectations.


Find your perfect partner in Tirunelveli Divorce Matrimony!

Tirunelveli divorcee matrimony login helps you not only to find a perfect match but also suggests you thousands of profiles according to your expectations. Are you a groom and looking for a divorced bride in Ariyalur? You can get several divorced brides in Tirunelveli with us. A lot of divorced people have found their partners and now leading a wonderful life with our help. You can too find the right partner for yourself at divorced matrimony Tirunelveli. Start your search for a new life!!


Our
Nithra Matrimony App
Nithra Matrimony is one among the best matrimonial service you could find, very simple and easiest one so far to get a better soulmate for your life, and it is user friendly and designed precisely for all the Tamil people who are searching for a partner, they can find out their ally from the matched list reliant on their bias. Use our Nithra Matrimony App to keep track of your beloved spouse hunt.