Brighten up your life with your life partner in Sozhiya Vellalar
Are you searching for Sozhiya Vellalar Bride/Groom? You are at the right place. Nithra Matrimony is a renowned matrimonial service site throughout Tamil Nadu. We have thousands of Sozhiya Vellalar Bride/Groom profiles handy. No need to worry, you can find your ideal life partner on Nithra Matrimony. We have a dedicated team members who are always ready to help you find your matching profiles. Many brides/grooms have already found their life partners through our site. So register now without further ado.
Read more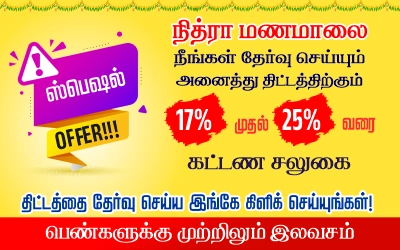 Sozhiya Vellalar Matrimony Brides
The profile you are looking for is currently unavailable.
You can register your details and we will notify you once matching profiles are accessed.

Sozhiya Vellalar Matrimony Grooms
The profile you are looking for is currently unavailable.
You can register your details and we will notify you once matching profiles are accessed.

Hindu - Caste
Muslim - Caste
Christian - Caste
By Profession
By City
By Education
By Dosham
Second Marriage By Caste
Divorcee By Caste
Divorcee By Location
Second Marriage By Location
How to Apply for Sozhiya Vellalar community on Nithra Matrimony

Nithra matrimony is a user-friendly matchmaking site. Users can easily apply and find their soulmates in Sozhiya Vellalar. Enter the details for registering such as name, date of birth, education, job, location, marital status, religion, caste, sub-caste, mother tongue, contact number, mail id, height, weight, and color. You can even enter horoscope details such as your zodiac sign, star, and if any kinds of dosham. In the next section, give details about your expectations, hobbies, and interests so it is easy to recognize the matching profile on both sides. Our only motto is to find the best matching partner for the bride/groom in Sozhiya Vellalar.


Find your Bride/Groom in Sozhiya Vellalar

Have you been fed up finding your life partner? Don't give up. Because Nithra Matrimony understands you the better! We have lakhs of bride/groom profiles across Tamil Nadu. Especially in the Sozhiya Vellalar community, we have more than thousands of verified profiles in a detailed manner. We have a special feature to search for the bride/groom depending on your wish. You can search by education, profession, religion-based, caste, city, and so on. Isn't this a simple way? Register immediately and find your equal in Sozhiya Vellalar.


Special one is on your way in Sozhiya Vellalar

Nithra Matrimony is a well-known matchmaking site over the years. On our site profile details are given by you. Our team will verify each and every registered profile meticulously. Just register your details with a photo. After verification, we will be showing you the matched profiles based on the details given. If you liked any profile we let know either side and meet with mutual interest. Looking for a bride/groom for your son/daughter, sister/brother, or friend? They can register on behalf of them. They can view profiles and contact for further. We gave an excellent offers for the brides who is in search of their groom, Brides can freely view profiles until their marry. For grooms, they can view up to 5 profiles for free. If you are interested in finding a future partner in other castes, we guide you with your preferences.

Looking for NRI Bride/Groom in Sozhiya Vellalar? We have got you thousands of NRI profiles from all over the countries such as the United States of America, United Kingdom, Australia, Canada, Saudi Arabia, United Arab Emirates, Singapore, Malaysia, France, and many more. You can even find your soulmate across the world. Maybe your special one is waiting for you outside the our country. Hurry up! Register today on Nithra Matrimony and start searching your lovable husband/wife now!


Our
Nithra Matrimony App
Nithra Matrimony is one among the best matrimonial service you could find, very simple and easiest one so far to get a better soulmate for your life, and it is user friendly and designed precisely for all the Tamil people who are searching for a partner, they can find out their ally from the matched list reliant on their bias. Use our Nithra Matrimony App to keep track of your beloved spouse hunt.