Self Employed Matrimony Brides/Grooms
Since there are fewer opportunities for young people to get a job these days, self-employment has grown significantly in importance. Self-employed people can work with freedom, and independence, and have control over their business decisions, no work pressure, they can turn their passion into a profession. The maximum number of young people are self employed and working with passion. Nowadays brides and grooms are also seeking self employed partners. So that, they both can work in a business and make it reach the next level.
Read more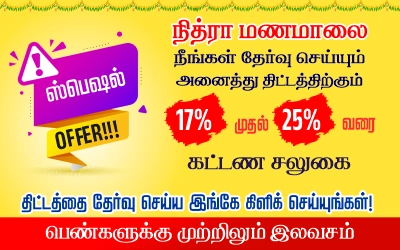 Self Employed Matrimony Brides
Self Employed Matrimony Grooms
Best Self Employed Matrimonial Site

Do you look for the best self employed matrimony in tamilnadu? Nithra Matrimony is the right choice. Self employed matrimony login in Nithra Matrimony provides you with several profiles of Self Employed brides and grooms. Nithra Matrimony has profiles from different fields in Self employment like parlor, makeup artist, bakers, Small scale industries, textile sales, home decorators, tutors, tailors, real estate, event planners, photographers, etc. You can choose your partners in your profession itself or else from your preferred field.


Tamil Brides/Grooms Self Employed Matrimony

Nithra Matrimony is the best self employed matrimony tamil. You can also search your partner by various categories like caste, religion, income, age, physical appearance, color, height, language, etc. The registration in Nithra Matrimony is free. Many of the profiles of brides and grooms who are all self employed have registered their accounts in Nithra Matrimony and started to find their spouses. Don't you want to find your spouse soon? Go register your profile in Nithra Matrimony!


Our
Nithra Matrimony App
Nithra Matrimony is one among the best matrimonial service you could find, very simple and easiest one so far to get a better soulmate for your life, and it is user friendly and designed precisely for all the Tamil people who are searching for a partner, they can find out their ally from the matched list reliant on their bias. Use our Nithra Matrimony App to keep track of your beloved spouse hunt.