Free Matrimony Sites in Pondicherry
Many have dreams to settle in Pondicherry with their family. Marriage is still a dream for many and they expect their companion as they wish and looking for the best matrimony in Pondicherry. Are you surfing for a bride/groom for your relatives in Pondicherry? Nithra Matrimony can help you to find your matched ones. We have different verified Pondicherry matrimony profiles. People who live in Pondicherry are known for good respect and they treat all in a kind manner.
Read more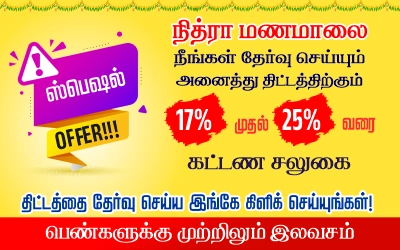 Pondicherry Matrimony Brides
Pondicherry Matrimony Grooms
Search Your Brides/Grooms in Pondicherry Online Matrimony

Nithra Matrimony stands as a free matrimony site in Pondicherry for its free registration. Females can view the profile of the groom for free till their marriage. Groom should pay the amount to get the bride's profile. Different packages like Standard, Silver, Gold, Diamond, and Platinum are available. You can subscribe to anyone plans to activate. By choosing them, you can get enormous brides profiles. According to your necessities, you can filter the profiles by using the filter option in Nithra Matrimony and choose the one easily. Many brides and grooms expect their better half should be in the same profession. You can find many professions in Nithra Matrimony like Advocate, teacher, software engineer, doctor, nurse, supervisor, secretary, government employee, banking profession, cashier, accountant, etc…


Best Pondicherry Matrimony Profiles

There are a lot of profiles with salary more than 50000. There are many NRI profiles too. Different profiles of grooms and brides from various religions like Hindus, Muslims, and Christians. Also, there are several castes Pondicherry matrimony profiles such as Vellalar, Brahmins, Nadar, Chettiyar, Devar, Vanniyar, Dravidar, etc. People speaking different languages like Tamil, Malayalam, Hindi, Telugu, Kanada, etc are also available. Can find who viewed your profile and who is interested in you. All your data will be maintained very secured. The brides or grooms which you like will give their information like photos and numbers etc. There may be many scam sites to cheat you, so please cross verify with that. Many brides and grooms are happily married through Nithra marriage matrimony in Pondicherry. 100% verified Tamil brides & grooms profiles are shown here. And you can also find your life partner and start your dream life. So, register your details here and find your prince charming.


Our
Nithra Matrimony App
Nithra Matrimony is one among the best matrimonial service you could find, very simple and easiest one so far to get a better soulmate for your life, and it is user friendly and designed precisely for all the Tamil people who are searching for a partner, they can find out their ally from the matched list reliant on their bias. Use our Nithra Matrimony App to keep track of your beloved spouse hunt.