Meet your future spouse on Pillai divorcee matrimony
People today have a variety of options when it comes to getting married. Their physical attributes, employment, education, location, marital status, and other expectations for potential life partners could be among them. According to their wish, they can select their life companion on the Pillai matrimony divorced site.
If you're looking for the ideal spouse for your son or daughter, sign up for free Pillai divorcee matrimony. The website offers a free signup process. Where you can get all of the Pillai divorcee brides and grooms profiles that meet your needs.
Read more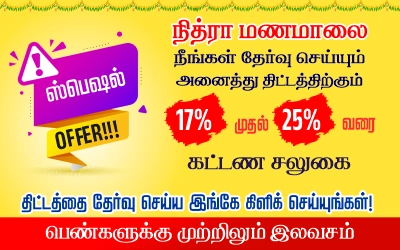 Pillai Divorced Matrimony Brides
Pillai Divorced Matrimony Grooms
Your lovable partner is waiting on the Pillai divorcee matrimony!

Brides and grooms on Pillai divorcee matrimony free search can consult compatible horoscopes, auspicious days for marriage, and notification alternatives at Nithra matrimony. Register your information now and meet your lovable spouse on the Pillai divorcee matrimony.

Enter your details and upload your recent photo. We will present the compatible profiles based on the information you have supplied after the verification is complete. You can proceed with getting married if there are shared interests in the compatible Pillai divorced groom profile.


Find your perfect partner on Pillai divorcee matrimony

Pillai matrimony divorced brides can enter all their information and start finding their Pillai divorced groom for free untill their marriage. You can choose the language option according to your convenience either english or tamil to view the profile information.

On Pillai divorcee matrimony login you have various filter options to meet your loving partner. If you are an NRI groom/bride looking for the best place to register your information, then you can provide all your details on the Nithra matrimony.


Our
Nithra Matrimony App
Nithra Matrimony is one among the best matrimonial service you could find, very simple and easiest one so far to get a better soulmate for your life, and it is user friendly and designed precisely for all the Tamil people who are searching for a partner, they can find out their ally from the matched list reliant on their bias. Use our Nithra Matrimony App to keep track of your beloved spouse hunt.