The Best Matrimony Portal For Ph.D. Doctor of PhilosophyTamil Bride And Groom
The Ph.D. Doctor of Philosophy is one of the most respected studies. Many people are searching for the foremost Ph.D. Matrimony in Tamil Nadu. Are you Ph.D. brides or Grooms and searching for your partner? Nithra Matrimony will assist you to find your future partner as per your expectations. The study of the purpose of life is referred to as philosophy. Thus, the Ph.D. grooms and brides would have a defined goal in their life and they will be well disciplined and respectable.
Read more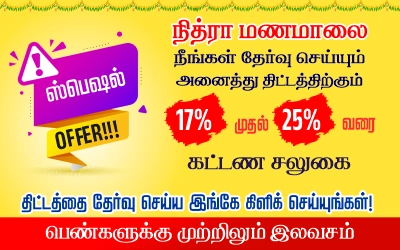 Phd Doctor Philosophy Brides
Phd Doctor Philosophy Grooms
Hindu - Caste
Muslim - Caste
Christian - Caste
By Profession
By City
By Education
By Dosham
Second Marriage By Caste
Divorcee By Caste
Divorcee By Location
Second Marriage By Location
Find Your Perfect Match On Ph.D. Doctor of Philosophy Matrimony

Tamil Ph.D. Doctor of Philosophy Matrimony is the most trusted and user-friendly matrimony site with thousands of happy clients. There are lakhs of verified profiles of Ph.D. Doctor of Philosophy brides and grooms. Both the brides and grooms can register for free on our site. We have satisfied our clients by finding their partner as they expected. By using our filter option you can easily shortlist profiles in various categories like profession, salary, location, income, language, physical appearance, complexion, age, marital status, and so on.


How To Search For Ph.D. Doctor of Philosophy On Nithra Matrimony

A marriage is more than just a beautiful occasion; it is a union of two souls. It is a sacred process in which two people promise to love one another for the rest of their lives. Many Ph.D. Doctor of Philosophy grooms and brides have already registered on our site. We have more than 50 castes and sub-castes from Hindu, Muslim, and Christian so that you can search in your caste and religion too. Maybe your partner is one among the lakhs of Ph.D. graduates and brides & grooms on our site. Do enroll your details with Ph.D. Matrimonial site and find your ideal match.


Our
Nithra Matrimony App
Nithra Matrimony is one among the best matrimonial service you could find, very simple and easiest one so far to get a better soulmate for your life, and it is user friendly and designed precisely for all the Tamil people who are searching for a partner, they can find out their ally from the matched list reliant on their bias. Use our Nithra Matrimony App to keep track of your beloved spouse hunt.