Looking For An Elegant Life Partner In Muslim - Pathan?
Are you waiting for a Muslim - Pathan bride/groom in Tamil Nadu? Nithra Matrimony is a well-known matrimony service site in Tamil Nadu. More than thousands of Muslim - Pathan Bride/Groom profiles are available. Nithra Matrimony assists you to find your ideal life partner. We have a specialized team that is always willing to help you in finding the right profiles. Our site has already helped many brides and grooms to find their life companions. After visiting our site, you will know that you have finally discovered the best matrimonial site.
Read more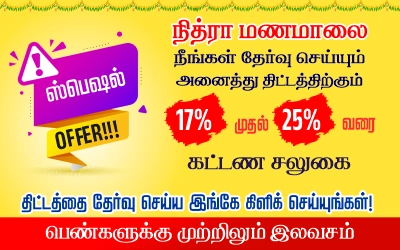 Muslim Pathan Matrimony Brides
| | | |
| --- | --- | --- |
| Name | : | Chandini |
| Age | : | 20yrs |
| Caste | : | Muslim - Pathan |
| Marital Status | : | Never Married |
| Qualification | : | 12th / H.S.S. |
| City | : | Krishnagiri |
To View Full Profile & Contact
| | | |
| --- | --- | --- |
| Name | : | Nasima |
| Age | : | 21yrs |
| Caste | : | Muslim - Pathan |
| Marital Status | : | Never Married |
| Qualification | : | Diploma in Nursing |
| Work | : | Nurse |
| City | : | Coimbatore |
To View Full Profile & Contact
Muslim Pathan Matrimony Grooms
Apply now to Find Muslim - Pathan Bride/Groom

Apply on the Nithra Matrimony site to find your special someone in Muslim - Pathan. Nithra Matrimony is really easy and comfortable matrimony platform for finding a soulmate in Muslim - Pathan for your life. Enter your mobile number and receive an OTP for free registration. Then fill in the required information, such as name, date of birth, age, caste, education, job, mother tongue, location, religion, marital status, salary details, workplace details, and physical appearance information, such as height, weight, and color. The following section requires you to provide information about your family such as your father's name, father's occupation, mother's name, siblings, and so on.


Remarkable Features on Nithra Matrimony for Muslim - Pathan Bride/Groom

We are delighted to share that we have already got a place in millions of hearts and families by matching their perfect life partner. We have an impressive offer for Muslim - Pathan brides who are looking for their perfect match. Females can view the groom's profile for free till they marry. So don't miss this opportunity to find your better half. On Nithra Matrimony site has a unique feature that allows anyone from their family or friends can register for a bride and groom. They can browse Muslim - Pathan profiles and contact people. Nithra Matrimony site is completely safe and secure. We put our clients' privacy first. Everyone has different interests and expectations. You can look for something that matches your interests. We separated them into groups based on caste, religion, qualification, occupation, city, and country.


Perfect Matching Partner in Muslim - Pathan

In Muslim - Pathan, we have hundreds of overseas profiles. From various countries such as the United States, the United Kingdom, Canada, Singapore, the United Arab Emirates, Saudi Arabia, Australia, Oman, Abu Dhabi, and others. If you liked any of the profiles, we will contact the respective family first and ask their opinion so that you will be able to contact them directly. Register and start the search to find your soulmate in Muslim - Pathan. Nithra matrimony will help you in every manner to find and provide you with a perfect matching partner, as well as a supporting person throughout your life.


Our
Nithra Matrimony App
Nithra Matrimony is one among the best matrimonial service you could find, very simple and easiest one so far to get a better soulmate for your life, and it is user friendly and designed precisely for all the Tamil people who are searching for a partner, they can find out their ally from the matched list reliant on their bias. Use our Nithra Matrimony App to keep track of your beloved spouse hunt.