The Best Matrimony Portal For M.Sc. Tamil Bride And Groom!
On the M.Sc Matrimony site, many profiles of M.Sc graduates are available in our site, the scope for M.Sc graduates is highly demanded in Medicine, chemical, petrochemical & Polymer industries & you can gain a respectable job in this area after completing the program with good grades. Nithra matrimony will fulfill your aspirations. Huge profiles are offered on the M.Sc Graduate Matrimony site. At our site you can easily track your better half at your favorite location, we make a list of M.Sc Brides and Grooms details at your convenient locality as Erode, Chennai, Madurai, Thiruvarur, Karur, and profiles from other districts are also accessible at Nithra Matrimony site.
Read more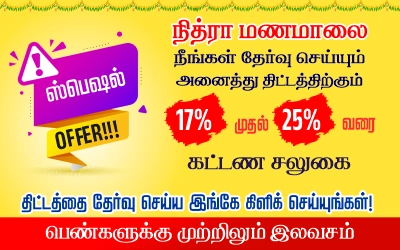 Hindu - Caste
Muslim - Caste
Christian - Caste
By Profession
By City
By Education
By Dosham
Second Marriage By Caste
Divorcee By Caste
Divorcee By Location
Second Marriage By Location
Find Your Perfect Match On M.Sc. Matrimony

Job holder profiles for M.Sc Grooms & Brides include government & private sectors in various technical & non-technical posts are also obtainable at free search. Christian M.Sc Brides / Grooms can choose their loved ones from Roman Catholic, Church of South India, Pentecost, Born Again, and Brethren, Hindu profiles are available from Yadava, Gounder, vanniyar, and Chettiyar, to Nadar. The following Muslim matrimonial sites are also waiting for you such as Lebbai, Rowther, Ansari, Sheikh to Syed, and several more in the same social circle in M.Sc Community Matrimony. Just log in to get more details.


How To Search For M.Sc. on Nithra Matrimony

To make finding easier, the M.Sc Matrimonial site initiated a special feature called a filter, which includes information about their incomes, education, profession, mother tongue, physical appearance, complexions, etc. All the details of the M.Sc. graduate Brides & Grooms are true, thus each profile on our Tamil M.Sc graduate matrimony site is well verified by our team. Use this excellent opportunity by enrolling your profile at Nithra Manamaalai.


Our
Nithra Matrimony App
Nithra Matrimony is one among the best matrimonial service you could find, very simple and easiest one so far to get a better soulmate for your life, and it is user friendly and designed precisely for all the Tamil people who are searching for a partner, they can find out their ally from the matched list reliant on their bias. Use our Nithra Matrimony App to keep track of your beloved spouse hunt.