The Best Matrimony Portal For M.Sc., B.Ed. Tamil Bride And Groom!
If you are searching for the M.Sc., B.Ed., Matrimony? Nithra Matrimony is the right option. One of the highest-regarded occupations in the world is teaching. Despite that M.Sc., B.Ed. now offers a respectable salary, many people are interested in pursuing both this degree. Tamil Nadu is known for its disciplined culture as well as we are known for our M.Sc. B.Ed graduate Matrimony. Many people have the desire of getting married to someone with an M.Sc. B.Ed Brides and grooms as they can constantly learn something new from them.
Read more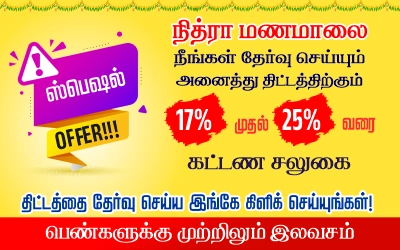 M.Sc. B.Ed Brides
M.Sc. B.Ed Grooms
Find Your Perfect Match On M.Sc., B.Ed.Matrimony

Are you expecting Grooms, M.Sc., B.Ed. / Brides? We have more than a lakhs of profiles who works as a teacher in different subjects like physics, chemistry, zoology, botany, mathematics, commerce, statistics, etc. M.Sc. B.Ed Matrimony Brides & Grooms can enroll your details with us and register your profile for free. Everyone has a dream of their future life with their partner. To attain that life, first, you should find the right partner who matches your expectations. M.Sc., B.Ed., matrimonial site helps you to find the one who matches your requirements.


How To Search For M.Sc., B.Ed. On Nithra Matrimony

All you need is to register your profile in M.Sc., B.Ed. Matrimonial Site and drop all your requirements. We show you 10000+ profiles that match your requirements like age, profession, income, religion, caste, color, height, weight, complexions, etc. Several numbers of Tamil M.Sc. B.Ed graduate Brides & Grooms have found their perfect match and married happily. Don't you want to live a dream life with a person who matches your expectations? Soon register your profile with Nithra Manamaalai!!


Our
Nithra Matrimony App
Nithra Matrimony is one among the best matrimonial service you could find, very simple and easiest one so far to get a better soulmate for your life, and it is user friendly and designed precisely for all the Tamil people who are searching for a partner, they can find out their ally from the matched list reliant on their bias. Use our Nithra Matrimony App to keep track of your beloved spouse hunt.