Find your love in madurai divorcee matrimony
Are you from madurai? Searching for the grooms? In this Nithra matrimony site, we have listed a large number of profiles about divorced grooms in Madurai. It will be easy for the users to find their companions. First, you have to create a profile and enter your details like name, community, caste, religion, age, qualifications, and so on.
Nithra matrimony is one of the most trusted matrimonies. In Madurai divorcee matrimony there is an enormous number of Madurai divorcee brides Profiles are available. If you have any questions while signing up for Madurai Divorcee Matrimony Login, please contact our customer service team, who will be glad to answer them.
Read more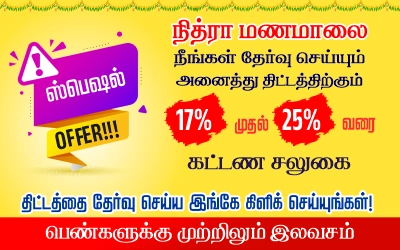 Madurai Divorced Matrimony Brides
Madurai Divorced Matrimony Grooms
Begin your peaceful life on Madurai divorcee matrimony

Dont think about your past and worry about that. There is a bright future waiting for you in Madurai divorcee matrimony free search. On this website, it is totally free for females, But for males registering fee is free and you can view three profiles. After that, premium plans should be executed for viewing the profiles based on your interest.

If you need to find Madurai divorcee grooms Profiles, no need to ask your relatives or friends, searching is made easier, why because it is categorized by profession, location, etc.


Best Madurai Divorce Matrimony in Tamil Nadu

This is the correct platform if you're seeking divorced brides in Madurai profiles. The majority of people like to wed someone from their own community, hence we have listed the Madurai divorcee brides profiles according to the community. Even the profiles for your son/daughter can be searched.


Our
Nithra Matrimony App
Nithra Matrimony is one among the best matrimonial service you could find, very simple and easiest one so far to get a better soulmate for your life, and it is user friendly and designed precisely for all the Tamil people who are searching for a partner, they can find out their ally from the matched list reliant on their bias. Use our Nithra Matrimony App to keep track of your beloved spouse hunt.